The English Wesleyan Chapel, Pontardawe
The Wesleyan Chapel, Pontardawe stood on Holly Street. The website
http://freepages.rootsweb.com/~cwmgors/history/Chapels.html#Ponty contains information on some of the chapels of Pontardawe. For the English Wesleyan Chapel, it says: "In the book Around Pontardawe, the Second Selection by the Pontardawe Historians, 1999, it has a photograph of the English Wesleyan Chapel, Holly St.". The caption says:-
the cause started in 1903 in the Rechabites Hall ........... the church cost £600 ..... opened in 1906. It closed in 1992, the (small) congregation moved to the Horeb Welsh Wesleyan Methodist Chapel in James St ...... the denomination finally ended in Pontardawe in 1995.
---
From the Llais
The Llais newspaper had always included a round-up of happenings at local churches and chapels, even when these were not part of any particular story. Sometimes they advertised forthcoming events, and at other times who was preaching, or had preached there recently.
From the Labour Voice 13th November 1923:-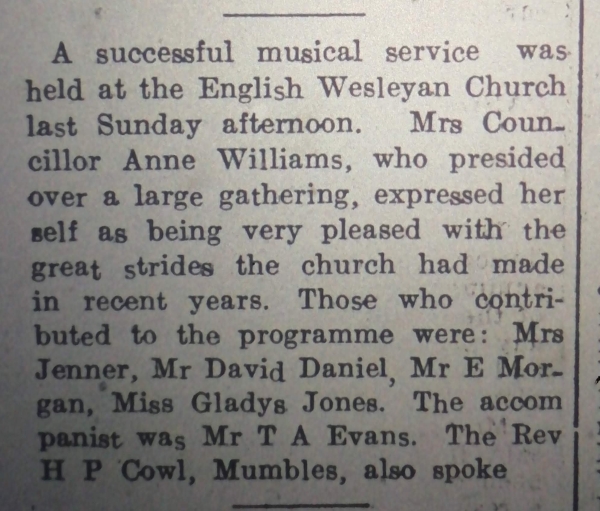 A successful musical service was held at the English Wesleyan Church last Sunday afternoon. Mrs Councillor Anne Williams, who presided over a large gathering, expressed herself as being very pleased with the great strides the church had made in recent years. Those who contributed to the programme were: Mrs Jenner, Mr David Daniel, Mr E Morgan, Miss Gladys Jones. The accompanist was Mr T A Evans. The Rev H P Cowl, Mumbles, also spoke.