Hebron Independent Chapel
Clydach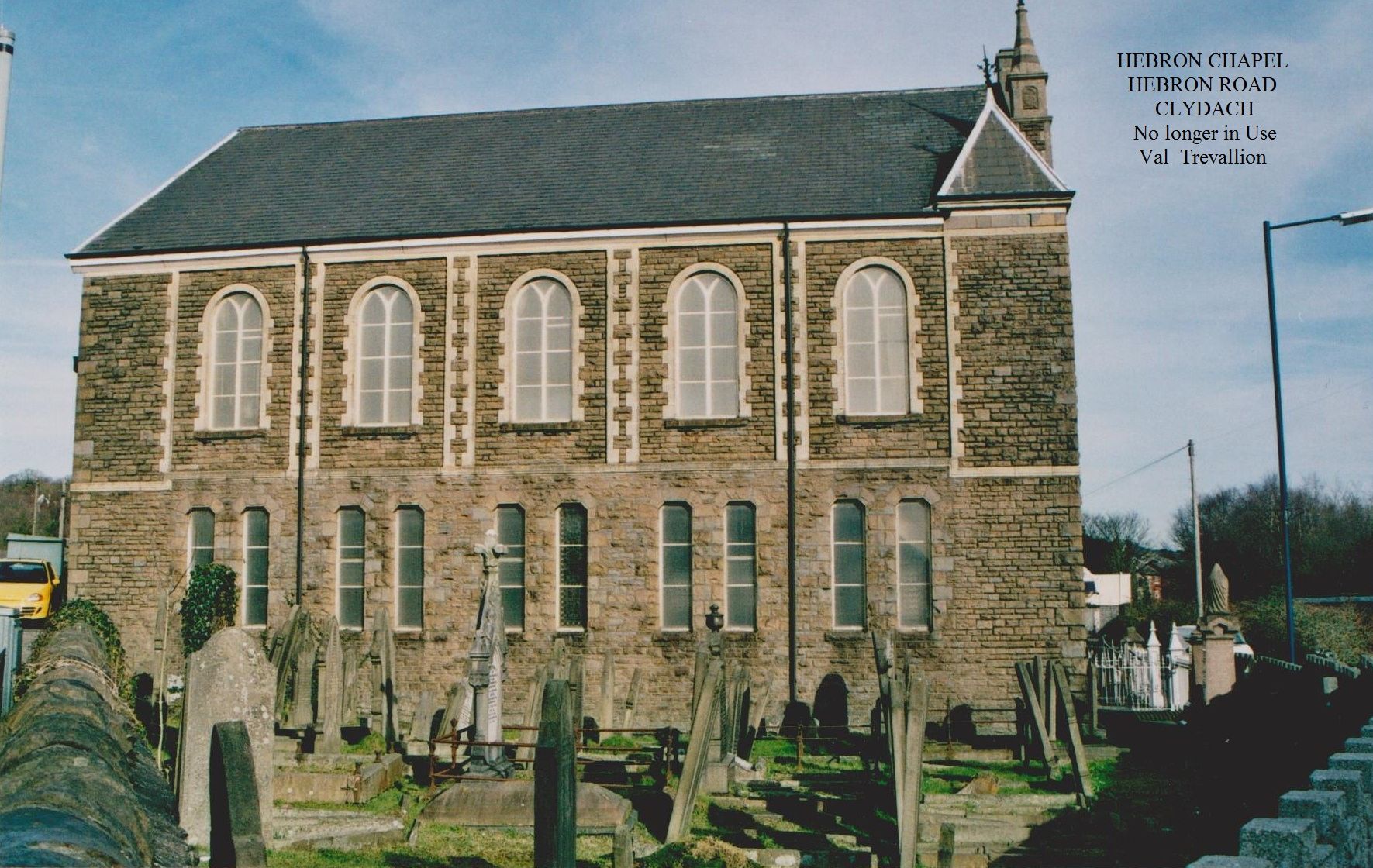 Whilst searching the little graveyard by the side of Hebron Chapel, I noticed the two stones one of 1848 the other 1881, although the latter had begun to suffer damage from the elements. Since I took the photographs in 2007 I believe the Chapel has been put up for sale and someone is converting it into a dwelling house. To tell the truth since Clydach market closed I have not driven through Clydach as much, so am a little out of date.
---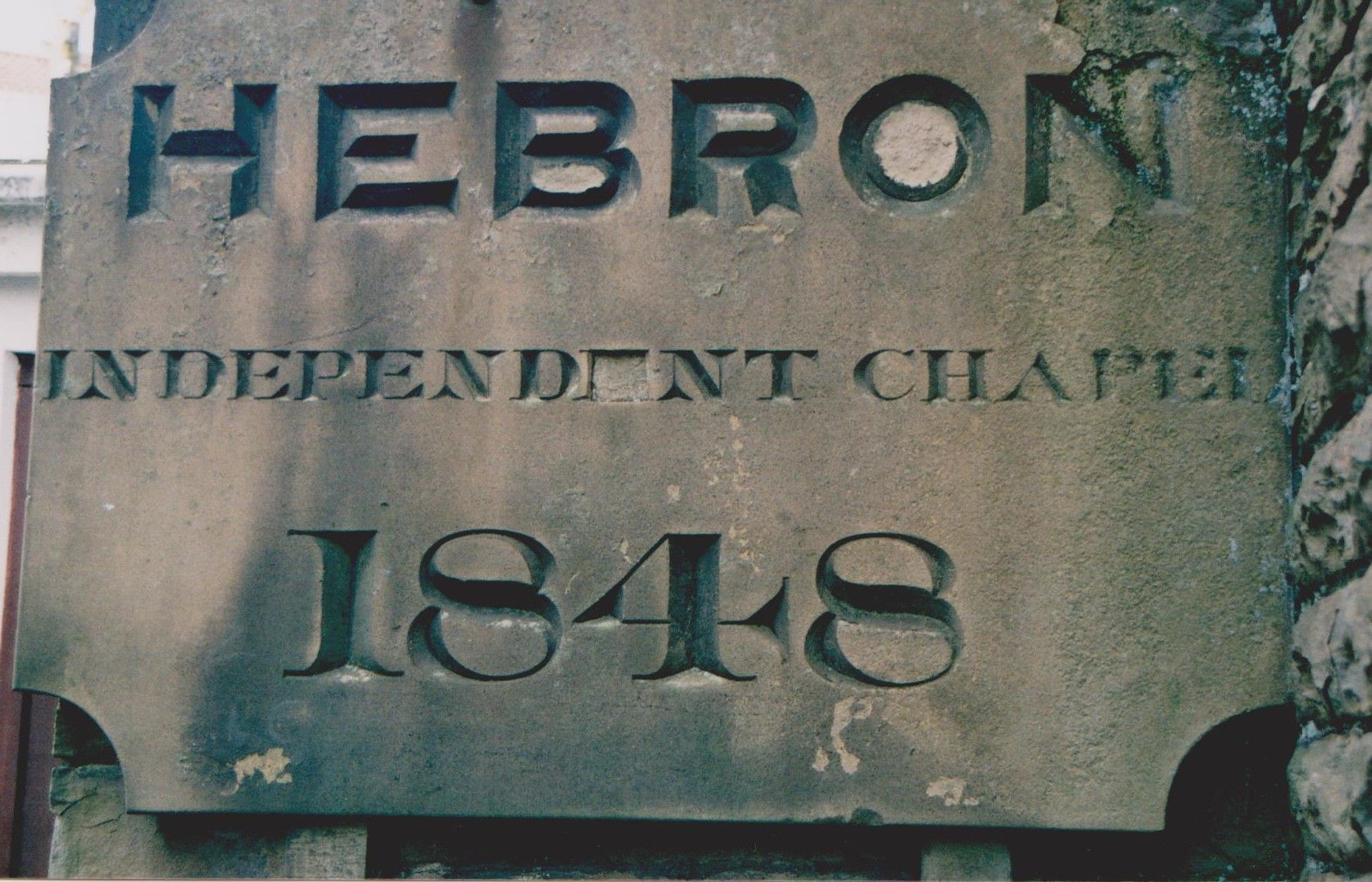 HEBRON Independent Chapel 1848
---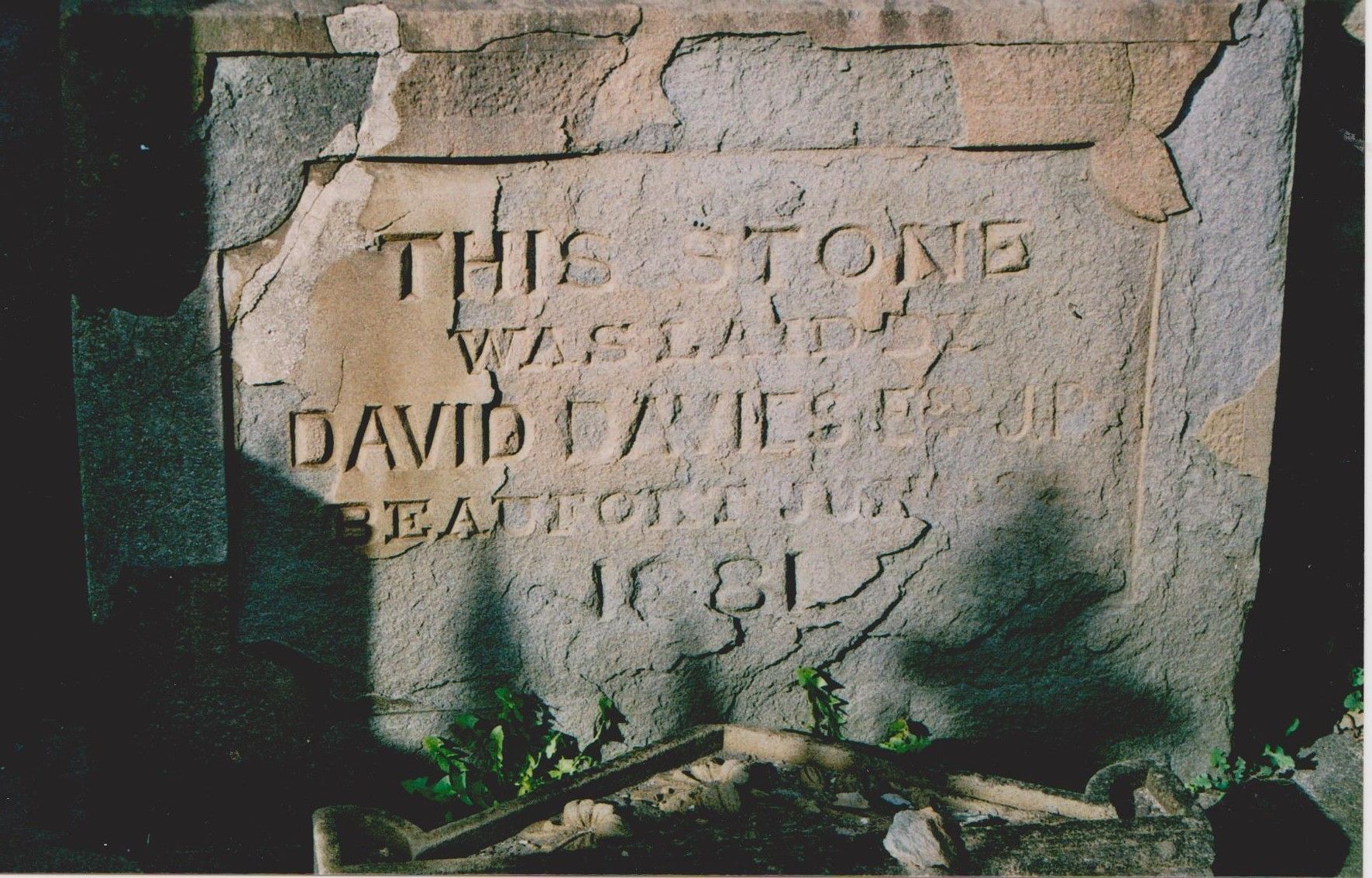 This stone was laid by David Davies ESQ, J.P., Beaufort July? xx 1881
---
John Henry Davies' book "The History of Pontardawe and District" was published in 1967. It includes a section on the Chapels of Clydach, including the following about construction of the various buildings that were, at their time, Hebron Chapel:-
When Gellionnen Chapel turned Unitarian, members from Mynydd Bach took a dwelling-house at Pentremalwod, Clydach, for holding religious services. About 1805, a church was formed there, and their first minister was Daniel Evans. The first Hebron, built on the site later occupied by the Cloth Hall, was opened on March 22, 1821.

Thomas Thomas of Llandilo district, was ordained on June 15, 1846, and during his ministry a larger chapel was built (old Hebron) which was opened on April 16 and 17 1849.

After demolishing old Hebron, the present building replaced it, and it was opened on September 17th 1882.
Ministers of Hebron Chapel
1805 - ???? Daniel Evans
1830 - 1834 William Thomas
1834 - 1845 David Jones (died 1845)
1846 - ???? Thomas Thomas
1853 - 1859 David Evans
1861 - 1903 Esay Owen
1905 - 1921 D. Eiddig Jones
1923 - 1953 J.J. Roberts, B.A.
1954 - (1967 was the present) E Stanley John, B.A., B.D.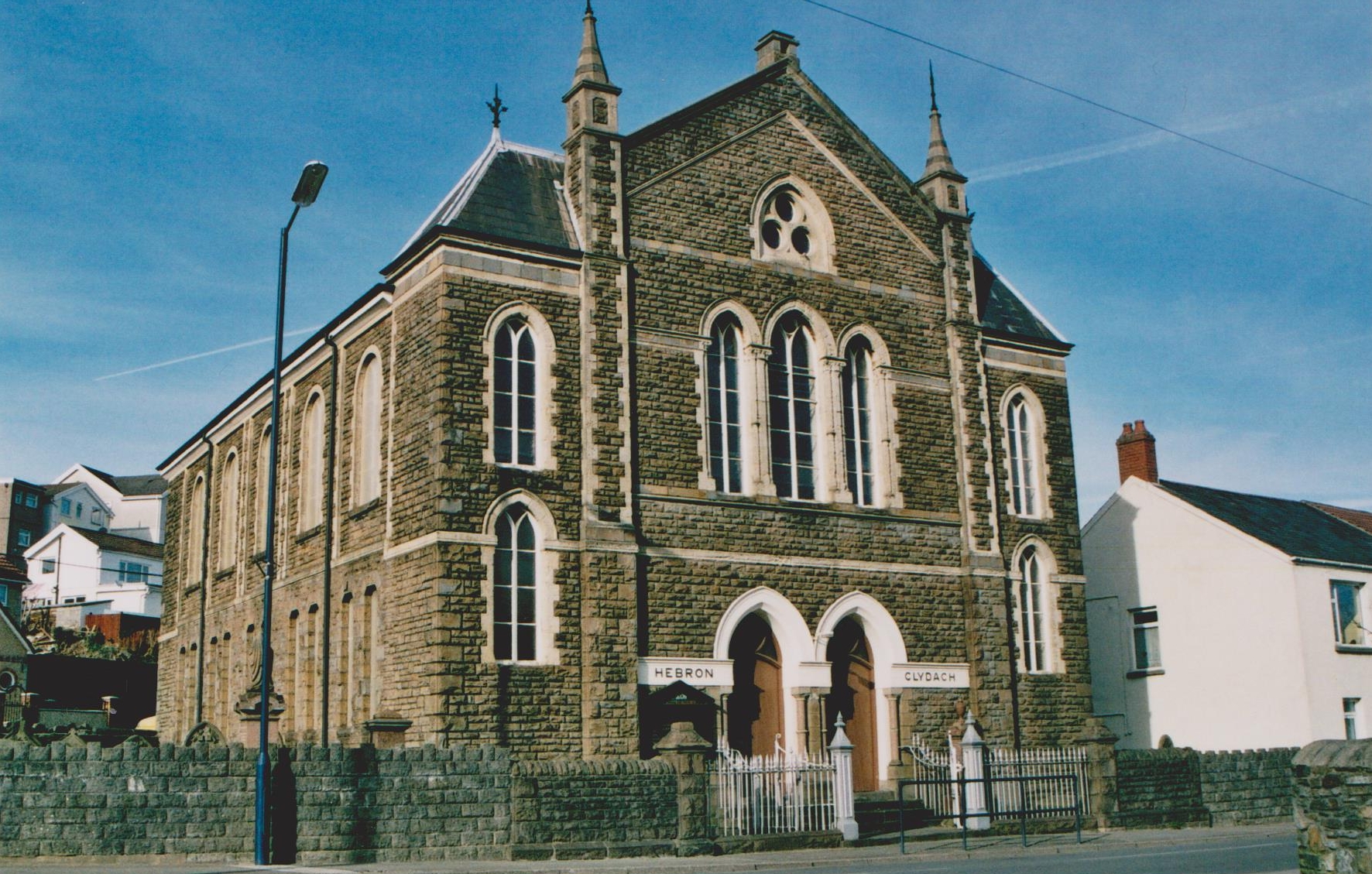 ---
| | |
| --- | --- |
| The side of Hebron Chapel nearest to the town of Clydach (and on the opposite side from the graveyard) | The front of Hebron Chapel, Clydach, as seen from the bus (sorry for the blur!) |
---
From the Llais
The South Wales Voice newspaper reported on events not just in the Swansea Valley, but also the Amman and Dulais valleys.
From the Labour Voice newspaper, Saturday October 27th 1923:-
Hebron Y.P.G.
At a meeting of the Young People's Guild held at Hebron Schoolroom on Wednesday evening lst, an excellent paper on an interesting subject was read by Mrs Rhys Williams (Hebron Road). There was an appreciative audience, and Mrs Williams was warmly thanked for her splendid contribution to the literary programme for the season.

From the Labour Voice newspaper, 10th November 1923 comes news of a new pastor for Hebron Chapel, Clydach:-
HEBRON CHAPEL, CLYDACH
Induction of New Pastor
Hebron Welsh Congregational Church was crowded with ministers and people hailing from both far and near on Thursday afternoon, on the occasion of the induction of the Rev J.J. Roberts, B.A., formerly of Clifton Road, Birkenhead, as Hebron's new pastor in succession to the Rev D. Eiddig Jones, now of Liverpool. The induction meeting was presided over by the Rev Williams James (Swansea)

---
War Memorial in Hebron Chapel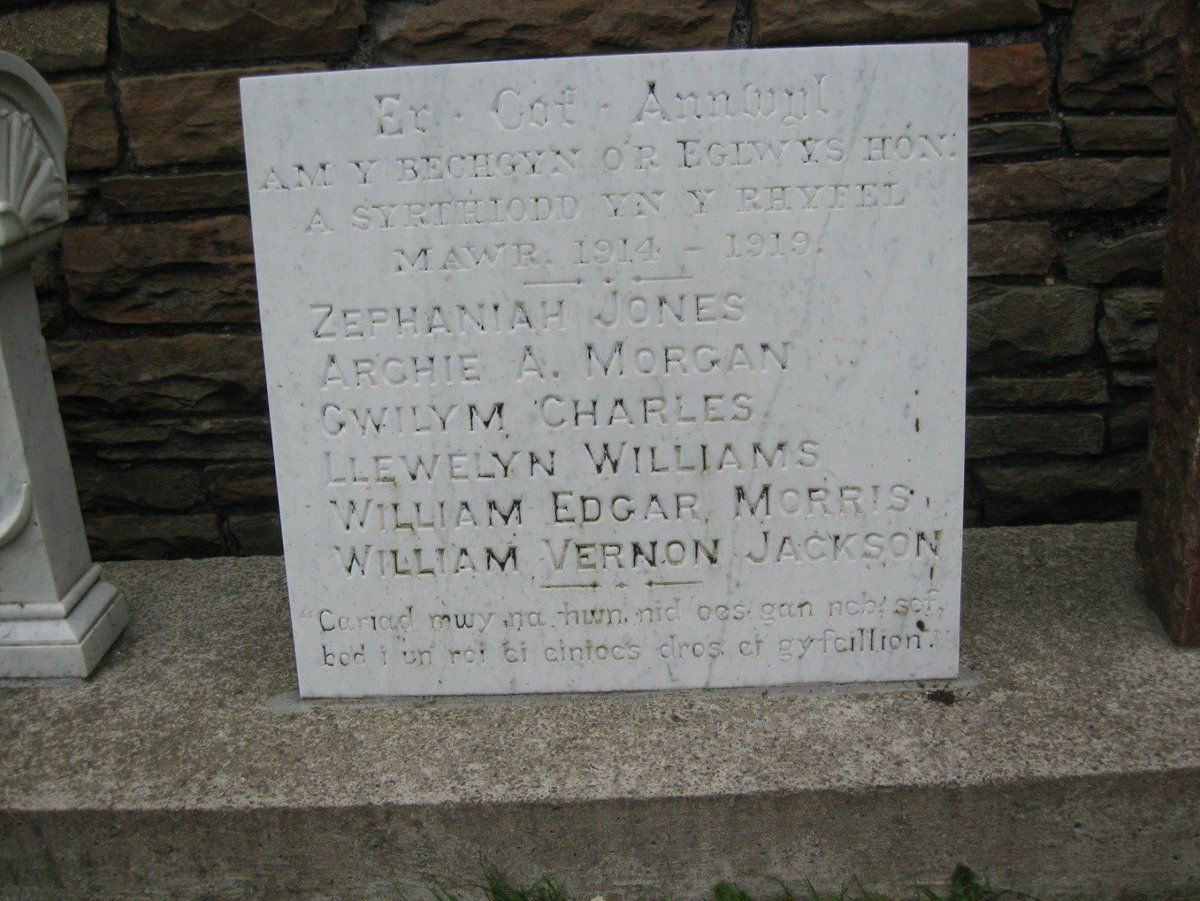 Hebron Memorial Tablet
MEMORIAL TABLET FREESTANDING IN THE HEBRON CHAPEL CLYDACH on FFORDD HEBRON ROAD CLYDACH

Er cof annwyl/ am y bechgyn o'r eglwys hon/ a syrthiodd yn y Rhyfel/ Mawr 1914 - 1919/ Zephaniah Jones/ Archie A. Morgan/ Gwilym Charles/ Llewelyn Williams/ William Edgar Morris/ William Vernon Jackson/ Cariad mwy na hwn nid oes gan neb;/ sef bod i un roi ei einioes dros ei gyfeillion Ioan //

In loving memory/ of the boys from this church/ who fell in the Great/ War 1914 - 1919/ Zephaniah Jones/ Archie A. Morgan/ Gwilym Charles/ Llewelyn Williams/ William Edgar Morris/ William Vernon Jackson/ Greater love hath no man than this that a man lay down his life for his friends
One of the fallen from the war memorial, has his own page at :- Gwilym Charles