Bethesda Chapel, Ynysmeudwy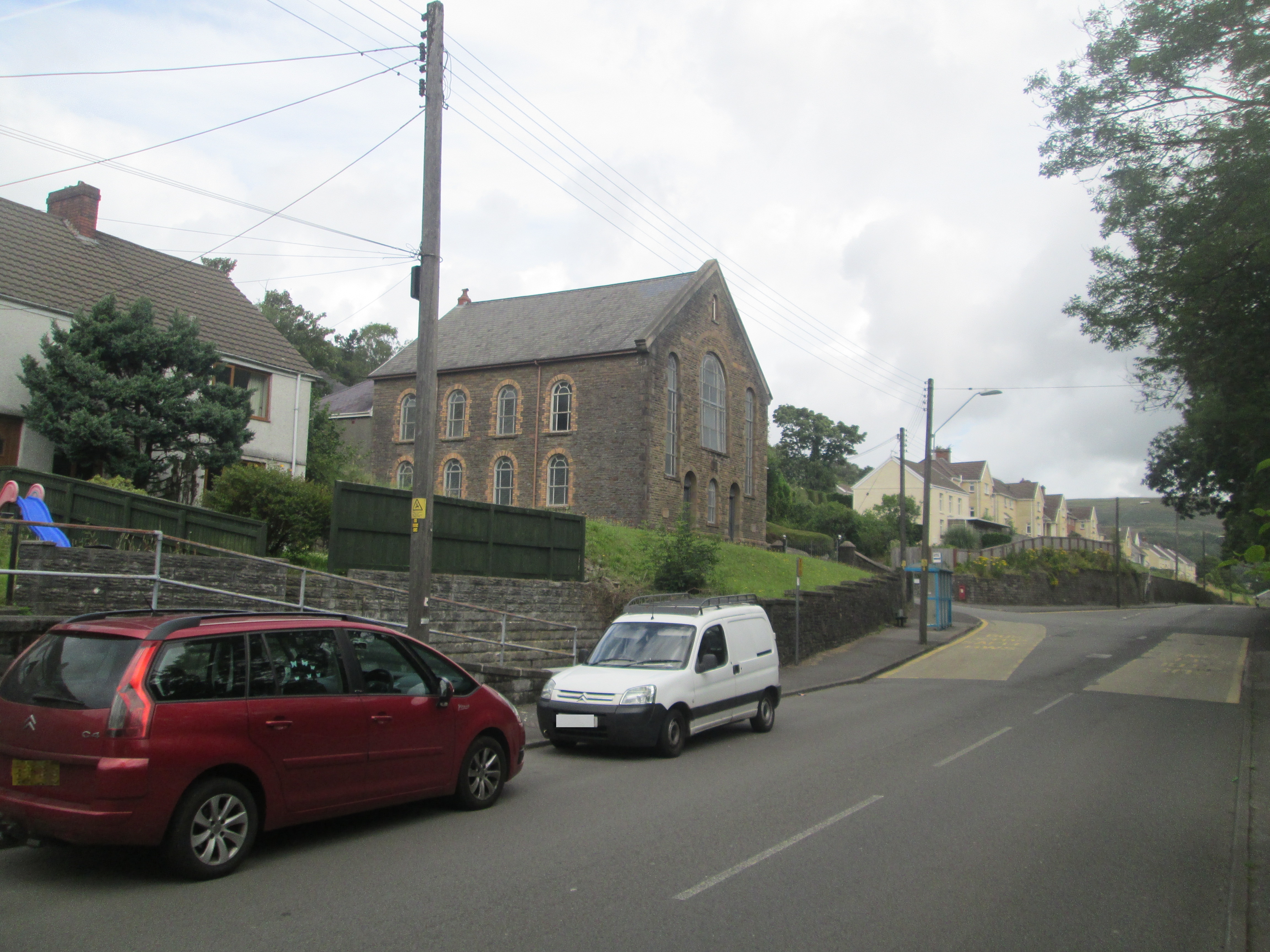 Bethesda Chapel Ynysmeudwy
Bethesda Chapel was built in 1861-62 on land rented from Griffith Griffiths of the Ynysmeudwy Arms. The first minister was the Rev Phillip Griffiths, of Alltwen.

A larger chapel was constructed in Curtis Row, and opened in 1893. The older chapel was demolished in 1955.
---
Ministers of Bethesda Chapel
| | | |
| --- | --- | --- |
| Rev Phllip Griffiths (Alltwen) | | |
| Rev J T Davies (also minister of Gosen, Trebanos) | | 1879-1898 |
| Rev Joseph Evans (Came from Bethel, Cwmtwrch) | | 1901-1905 |
| Rev T Emrys Jones | | 1907-1912 |
| Rowland Evans | | 1913-1916 |
| Rev Richard Owen Hughes | | 1918-1923 |
| John Derlwyn Evans | | 1925-1943 |
| Mr D Benjamin Jones | | 1950- bef. 1956 |
| | |
| --- | --- |
| Bethesda Chapel has a cemetery alongside and to the rear | Bethesda Chapel with the bus stop in front and road up alongside |
---
History of Bethesda Chapel
Before Bethesda Chapel was built in 1861-2, many religious services and Sunday Schools were held in dwelling houses but monthly communion took place at Alltwen.

Land for building was given at a rent by Griffith Griffiths, Ynysmeudwy Arms.

The Rev Phillip Griffiths, Alltwen, looked after the congregation until he retired.

In 1879 the Rev J T Davies came there, looking after Bethesda and Gosen, Trebanos for 18 years, and also Tabernacle, Pontardawe from 1881. He left for Cymer Porth in 1899.

A larger chapel was built and opened in 1893 in Curtis Row, a stone at the front of the chapel commemorates the tercentenary of the martyrdom of John Penry (the famous Welsh Puritan).

After two years without a minister, in 1901 the Rev Joseph Evans came from Bethel, Cwmtwrch, and left in 1905 for Pontygwaith, Rhondda.

The Rev T. Emrys Jones was inducted on 27th November 1907, and during his tenure the debt was cleared; he left in 1912. The T in his name was for Thomas, but he was known as T. Emrys Jones.

In 1913 Rowland Evans was ordained, he left in 1916, the land under the chapel was bought in his time here. In 1916, he left for Llanelly.

In 1918, the Rev Richard Owen Hughes came here; he retired in 1923.

In 1925 Mr John Derlwyn Evans was inducted in the January, and stayed until January 1943, when he left for Noddfa, Taibach, Port Talbot. During his ministry, in 1925, a manse was purchased.

Mr D Benjamin Jones was ordained here in 1950, and during his time a modern vestry was built.

By 1966, there was at the time of John Henry Davies writing "Pontardawe and District" no current minister.
---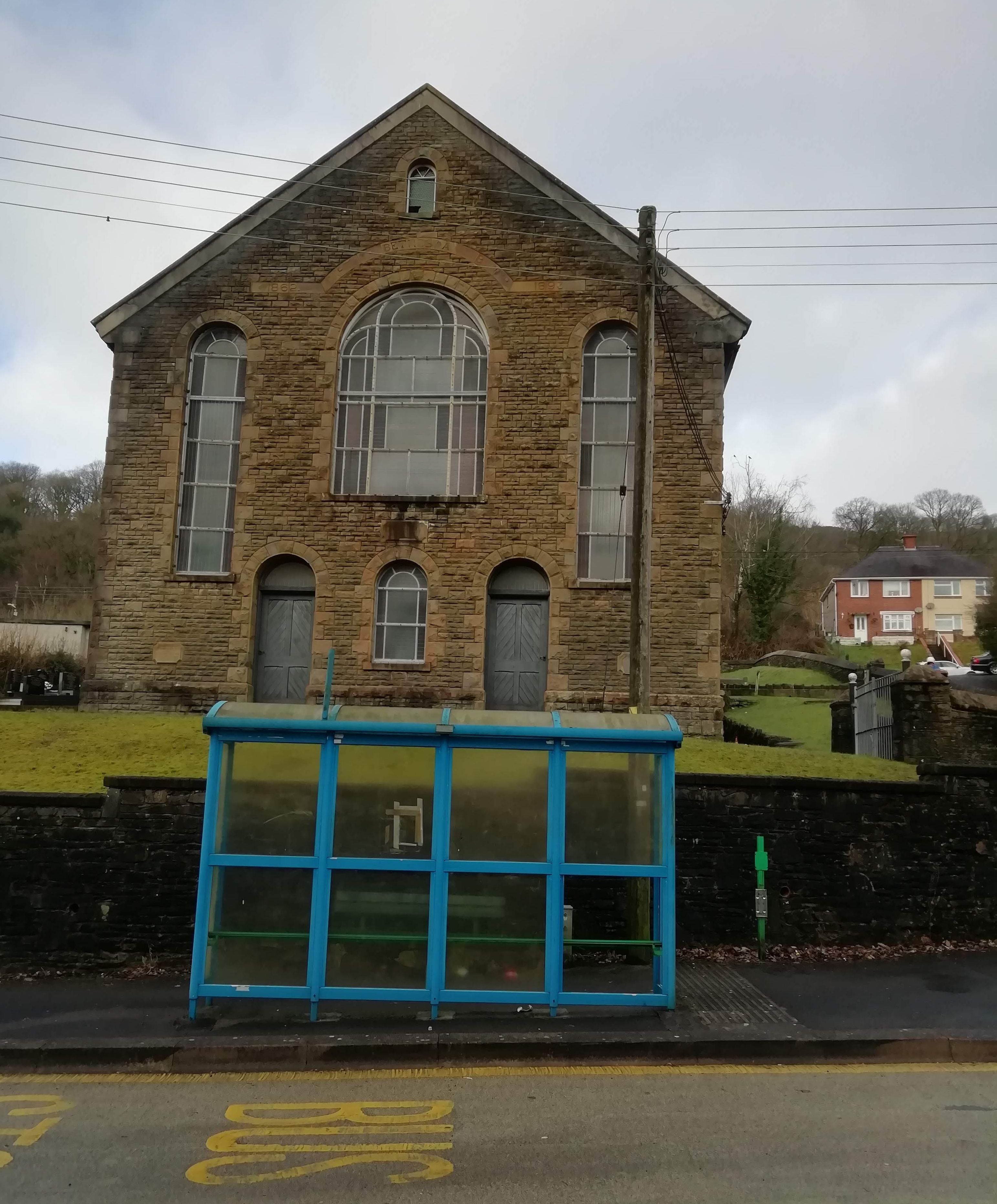 A few photographs of Bethesda Chapel, Ynysmeudwy
---
Views of Bethesda Chapel
These photographs of Bethesda Chapel, Ynysmeudwy, were taken in July 2019.
---
From the Llais
The Llais newspaper had always included a round-up of happenings at local churches and chapels, even when these were not part of any particular story. Sometimes they advertised forthcoming events, and at other times who was preaching, or had preached there recently.
The Llais newspaper for 1923 has a couple of interesting articles on the retirement of the Rev. Richard Owen Hughes. The top one is from January 27th 1923, and the bottom one from 10th March 1923.
YNISMEUDW
The Rev R.O. Hughes, who has acted as pastor of Bethesda Congregational Chapel, Ynismeudw, for six years, is retiring shortly and will take up residence in Llandilo

THE REV R.O. HUGHES' DEPARTURE
Although his pastorate at Bethesda, Ynysmeudwy, does not terminate until April, the Rev R.O. Hughes has already taken up residence in Llandeilo, where he is living in retirement.

From the Labour Voice newspaper, 10th November 1923:-
The Rev. Llewelyn Morgan (Welsh Wesleyans) occupied the pulpit at Bethesda, Ynismeudwy, on Sunday last.
From the South Wales Voice 27th September 1941:-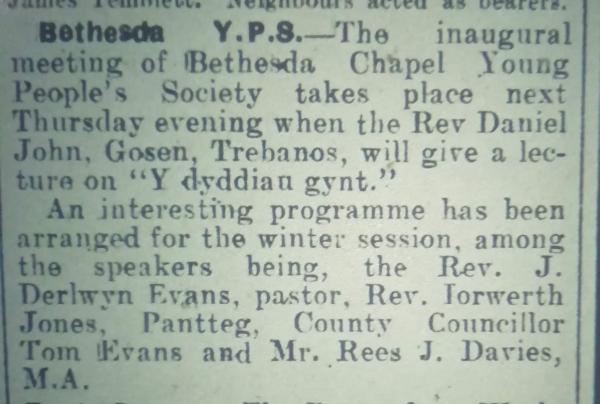 BETHESDA Y.P.S. The inaugural meeting of Bethesda Chapel Young People's Society takes place next Thursday evening when the Rev Daniel John, Gosen, Trebanos, will give a lecture on "Y dyddiau gynt". An interesting programme has been arranged for the Winter session, among the speakers being, the Rev J Derlwyn Evans, pastor; Rev Iorwerth Jones, Pantteg, County Councillor Tom Evans and Mr Rees J. Davies, M.A.