Alltwen Chapel
Alltwen Chapel, in Alltwen near Pontardawe, was built in 1831, rebuilt in 1861 and again in 1889.It is an independent, or Welsh congregationalist, chapel and is still going strong in 2019.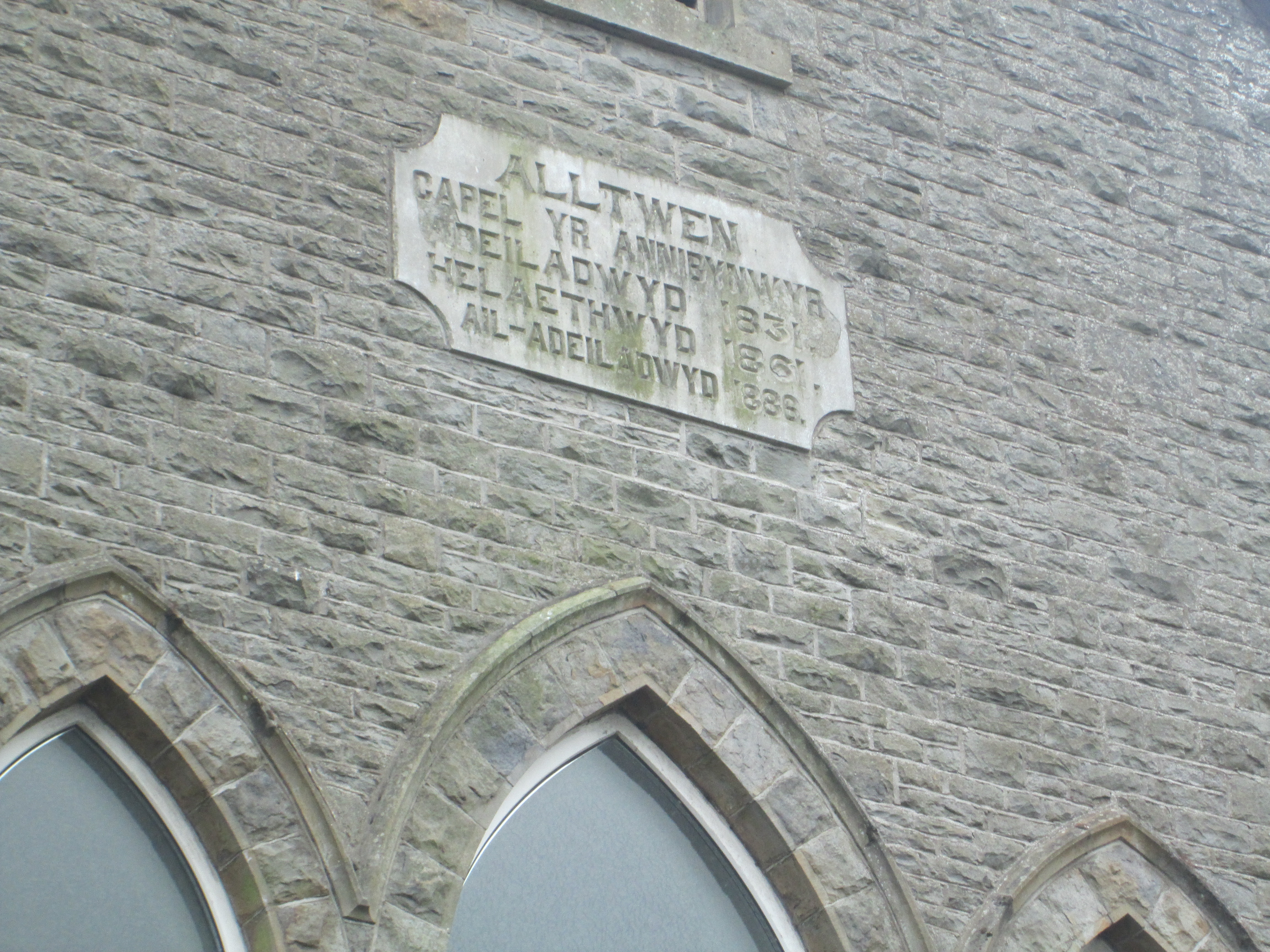 Alltwen Chapel was one of the earliest in the upper Swansea Valley, and before the establishment of its own chapels, people from Ystalyfera used to walk the several miles to Alltwen to worship every Sunday.
Today, Alltwen Chapel is a large building, with attached vestry, with a large cemetery behind it, accessed by a gate to the right, facing the chapel. Amazing views down the valley are possible from the cemetery, which is still going strong, and has new areas, and prospective future areas, within its confines.
---
Views of Alltwen Chapel
---
Views of Alltwen Chapel Vestry
The name stone on Alltwen vestry says that it was built in 1858, and rebuilt in 1893.
---
Views of Alltwen Cemetery
Wargraves at Alltwen Cemetery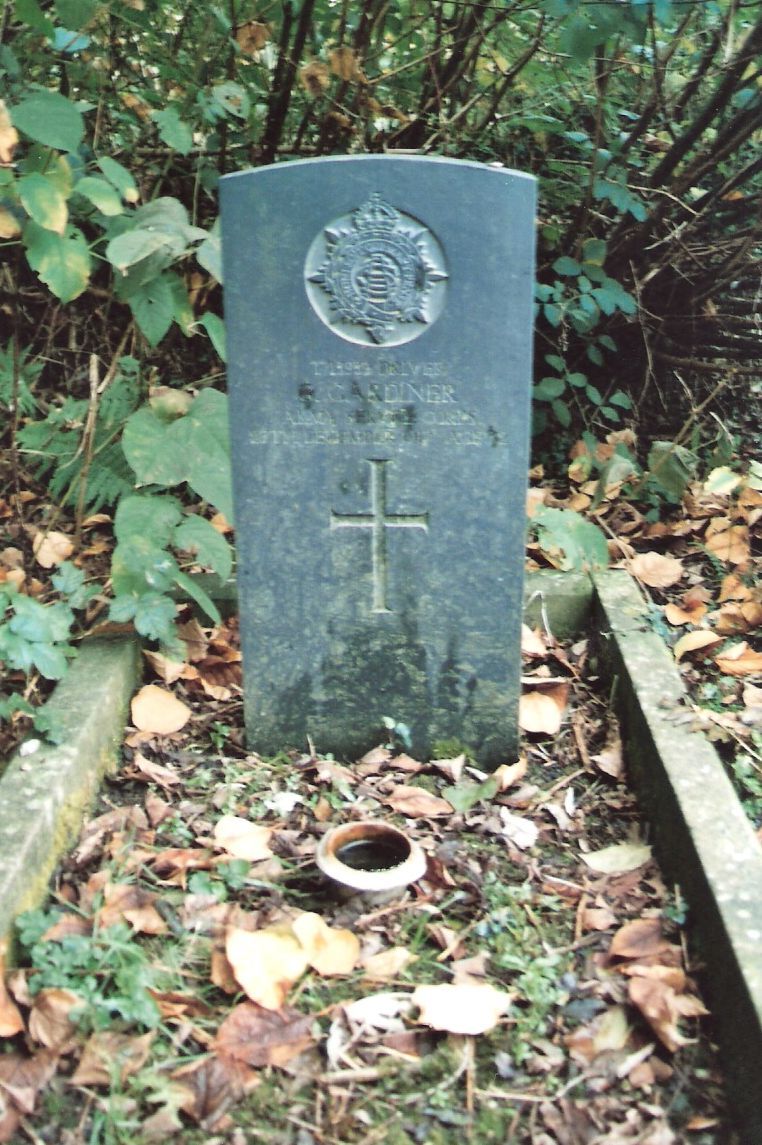 The war grave of George Gardiner, of the Army Service Corps, who died on 27th December 1917 in Belfast, and was buried in Alltwen cemetery.
---
From the Llais
The South Wales Voice newspaper reported on events not just in the Swansea Valley, but also the Amman and Dulais valleys.
The Labour Voice newspaper, November 10th 1923 includes information about an organ recital at Alltwen Chapel:-
ALLTWEN ORGAN RECITAL
A treat that is eagerly being looked forward to by lovers of music in the locality is the organ recital to be given by Mr T.D. Jones now of Sketty, and formerly of Morriston, at the Alltwen Chapel on Sunday, November 18th. This will be the first occasion for this brilliant organist to visit the locality and already great interest is being evinced in the programme. Mr Jones will be assisted by Mr George Llewelyn, I.R.A.M., Port Talbot of the Queen's Hall, London, Madame Mair Rees and Miss G. Francis, Alltwen. Altogether a splendid evening's entertainment can confidently be looked forward to.
The South Wales Voice newspaper, January 13th 1940 recorded twenty-five years in the ministry for the Reverend W.J. Rees of Alltwen Chapel. It is to be noted that further down the article they refer to his brother, the minister of Llangeler, but they have just used a line (-) in the newspaper before his surname, implying they did not know his name or initials for the article.
25 YEARS IN THE MINISTRY
Alltwen Celebration Services

There were large congregations at Alltwen Chapel last week when special services were held to celebrate the completion of 25 years in the ministry by the Rev W.J. Rees, Alltwen. On Thursday evening there was a presentation meeting over which the Rev David Jenkins, Rhos, presided, where Mr and Mrs Rees received a gold watch and Westminster hall clock, respectively.
Mr John R. Lewis, secretary of the church referred to the success of Mr Rees's ministry, and Mr Lewis Jones, treasurer, spoke of Mr Rees' exceptional gifts and his effecive ministry and the messages he had preached in the 25 years.
Speaking on behalf of Seion Chapel, Gellynudd, Mr David Jenkins spoke of the value Mr Rees had been to them during the period he had been at Alltwen. He first heard Mr Rees preaching at half-yearly services, when we was knwn as "Mr Rees, Porth." It was noteworthy that Mr Rees commenced his ministry in the sound of war and now he was celebrating his quarter-century when war was again being fought.
Councillor Richard Roberts J.P., represented the young people of the church, and said he greatly appreciated the honour conferred upon him. He said Mr Rees could be regarded as one of the giants of the Welsh pulpit, yet he was of a retiring disposition. Mr Rees was always ready to tolerate the judgment of other people and also to appreciate such opinions. During the last 25 years the sum of £54 had been contributed to church funds by the young people.

PRESENTATION
The presentation to Mr Rees was made bby Mr David Isaac Hopkin, eldest deacon and member of the chapel, while the gift to Mrs Rees was handed over by Mrs Lewis Jones who spoke of the great help that Mrs Rees had been to her husband. Mrs Rees was a valuable member of the chapel and a Sunday School teacher and was held in high regard by all.
Both Mr and Mrs Rees suitably responded with brief speeches.
Reverend R. Gwynedd Jooes, B.A., Danygraig, said he regarded it as a privelege to be ordained minister of a church so close to Mr Rees. He had known Mr Rees for a shorter period than anyone present that evening, but he could bear the highest testimony of him. Mr Rees was always doing something - always the right thing at the right time. His sermons were topical, which proved his great love of reading.
Rev. Daniel John, Gosen, paid a tribute to Mr Rees as a minister, personal friend, and a friend of the family. Mr Rees was most agreeable in every respect.
Revs -- Rees, Llangeler, brother of the Rev W.J. Rees, and Edwin Jones, formerly of Cwmllynfell, made contributions to the speeches of the family, and the mother church at Trelech.
Representing Pontardawe and district ministers was the Rev D.G. Jones, Soar, who spoke in his usual humorous vein.
The choir, under the conductorship of Mr Evan Hughes-Davies, A.R.C.M., sang two anthems, with Madam Lewis-Rees as soloist. Mr W. Williams was the organist.