Saint Margaret's Church
Ystradowen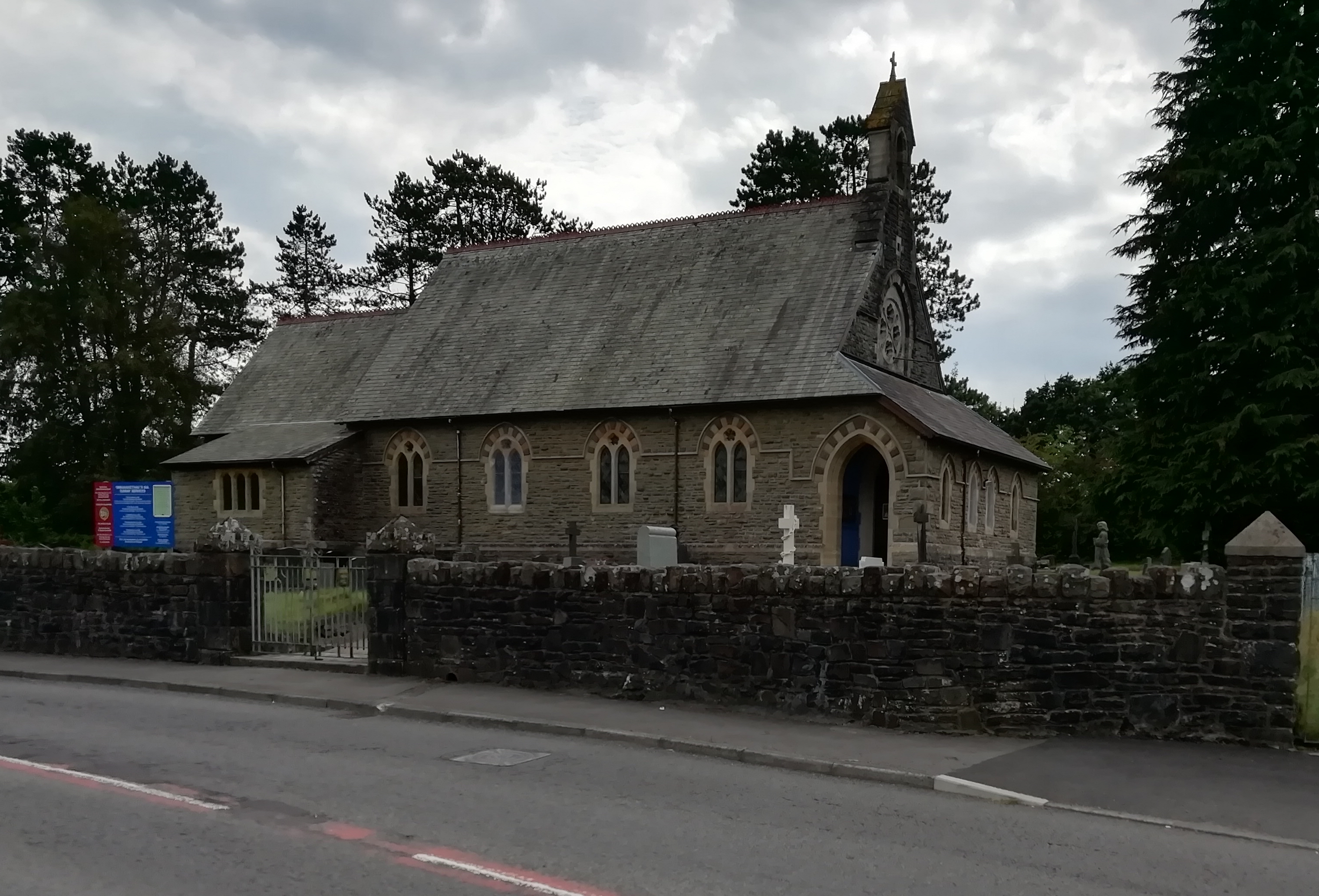 Saint Margaret's Church is on the main road through Ystradowen, on the left-hand side as you approach Cwmllynfell, which it is situated very close to.
---
The photographs below of Saint Margaret's Church, Ystradowen, were taken in Summer 2019 and show the church from various angles from the road.
---
Remembrance Grave
Thomas Henry Pitman, who served with the Royal Garrison Artillery and was killed in action in France in May 1918 is remembered on his parents' grave in the cemetery of Saint Margaret's Church, Ystradowen.He is is buried in the Cabaret Rouge British Cemetery, France, but a common practice for local war dead was to mention them on a family grave, so that their memory would remain with the rest of the family.
His full memorial page can be visited by clicking on - Thomas Henry Pitman at Ystradgynlais Wargraves. Although he was living at Cwmllynfell, he also appeared in the Cwmtwrch section of the Ystradgynlais War Memorial when it was compiled.
---
From the Llais
The Llais newspaper had always included a round-up of happenings at local churches and chapels, even when these were not part of any particular story. Sometimes they advertised forthcoming events, and at other times who was preaching, or had preached there recently.
From the Labour Voice newspaper, April 10th 1915:-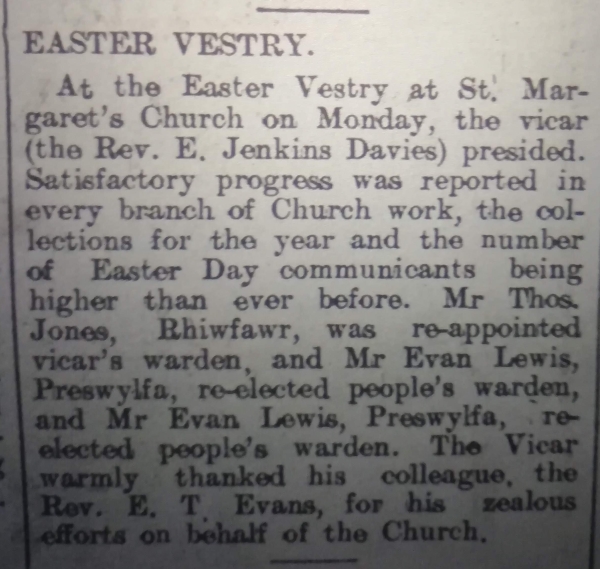 EASTER VESTRY

At the Easter Vestry at St. Margaret's Church on Monday, the vicar (the Rev E. Jenkins Davies) presided. Satisfactory progress was reported in every branch of Church work, the collections for the year and the number of Easter Day communicants being higher than ever before. Mr Thomas Jones, Rhiwfawr, was re-appointed vicar's warden, and Mr Evan Lewis, Preswylfn, re-elected people's warden. The vicar warmly thanked his colleague, the Rev E.T. Evans, for his zealous efforts oon behalf of the Church.
The Llais newspaper for March 24th 1923 recorded two articles for that edition:-
A whist drive will be held at St. Margaret's Church Hall on Thursday, April 5th. The M.C. will be Mr David Lee
About 16 candidates will be confirmed at St. Catherine's Church, Brynamman, next Tuesday from St. Margaret's Church, Cwmllynfell, by the Lord Bishop of Saint David's.
The South Wales Voice newspaper of January 6th 1934 recorded the arrival of a new curate at Saint Margaret's:-
CWMLLYNFELL NOTES
NEW CURATE FOR ST. MARGARET'S

The Rev. D. Tawe Jones, of Capel Dygwydd, near Newcastle Emlyn, will commence his curacy at St. Margaret's Church on Sunday next, in succession to the Rev D. Jno [sic] Roberts, B.A.

The Voice newspaper, January 18th 1963 has an article on the Nativity Play at Saint Margaret's Church:-
The Nativity play, previously postponed because of the inclement weather, was performed at St. Margaret's Church hall on Sunday January 6th.
The children gave a sincere and enjoyable performance, and the curate, the Rev D.H. Jones is to be complimented on this first performance of a play since he took charge of St. Margaret's Church.
Those taking part were Mary Evans, Christine Locke, Pamela Rees, Janet Williams, Enid Rees, Bessie Walters, Margaret Fyfield, Rhyswen Probert, Jennifer Stephens, Enid Protheroe, Illtyd Protheroe, Paul Evans, Gareth Rowlands, Roy Kendrick, Roger Kendrick.
Narrator was Miss Eirian Jones; prompter, Miss Betty Jones; sound effects, Mr Roy Evans; stage manager, Mr W. Rees; make-up, Mrs Mari Williams and Mrs D.L. Davies; producer, Rev D.H. Jones.