John Davies, Minister of Wern Chapel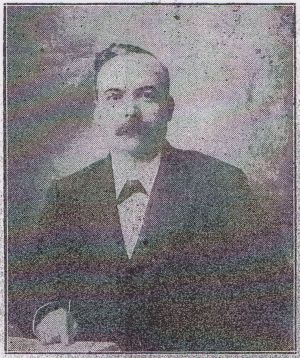 John Davies of Memorial College Brecon was ordained as minister in 1890 but on account of his continued ill health, he decided to resign from the pastorate in 1915. He had been suffering for the last eight years and after a ministry of a period of 26 years the Church had arranged to present him with a cheque of £52 which was handed over to him in December of 1915. Although not able to perform his ministerial duties he decided to open a business at Victoria House on Wern Road as a bookseller, stationer and dealer in fancy goods.
As is described below, he died in 1924.

REV JOHN DAVIES - ANNIE DAVIES (His Wife) - RHIANNON DAVIES (Daughter) HAVE BEEN FILED TOGETHER BY YEARGROUP AS A FAMILY ALTHOUGH LOCATIONS OF GRAVES ARE UNKNOWN
From the Labour Voice Saturday 4th October 1924:-
REV JOHN DAVIES WERN YSTALYFERA
DEATH OF A BRILLIANT WELSHMAN

Late on Sunday evening the death took place at his residence at Bron Iestyn Ystalyfera, of the Rev John Davies, who for 25 years was minister at Wern Independent Church. It is well known that the deceased had suffered from ill health for many years. This was due to the rupture of a cerebral blood vessel which caused paralysis. In spite of determined efforts urged by an indomitable will to recover his lost health, he gradually lost ground and five weeks ago, he sustained another stroke of paralysis. Since then he had been confined to his bed and passed away as stated.

STARTED WORK IN THE MINE
Born at Aberdare, November 20th 1865, Mr Davies was within a few weeks of his 59th birthday. His parents were David and Mary Davies and being the eldest of six children, he started work underground when quite a young lad. Even at that age however he evinced that love of knowledge and culture which was such a prominent characteristic of his throughout life. As was natural perhaps in a town with the musical traditions of Aberdare, his first love in the domain of culture was music. When quite young he passed several important examinations in music and although other subjects claimed him as their own later in life, he retained his interest in and love for music until the end.
His education was begun at the famous Ysgol y Comin, where so many eminent Aberdarians have found inspiration to make life a success. After working several years as a miner at the age of 19 he entered Ysgol yr Hen Dy Cwrdd, Aberdare, under the Rev D J Jones MA., with the view of entering the ministry. So rapid was his progress here that he passed after only eleven months training, fourth on the list to Brecon Memorial College. During the four years he spent at Brecon he won the Thomas Prize twice in succession.

HIS COMING TO YSTALYFERA
Receiving a call from Wern Independent Church Ystalyfera, the ordination services were held on February 26th & 27th 1890. Amongst those who took part in the services were Professor Morris and D Rowlands (Dewi Mon), Brecon; the Revs J Davies Tai hirion; Lewis Tynycoed; T Selby Jones Carmel Gwauncaegurwen; E Thomas Glandwr; W J Nicholson Swansea; J Rees Cwmllynfell; Rees Rees Alltwen and H T Jacob Aberdare.
Beginning his ministry when 24 years old, having completed an eminently successful training at college, young and full of enthusiasm, his physical and mental powers in the full bloom of early manhood, it is no wonder that under his guidance the church at Wern experienced a new era of exceptionally fruitful activity and solid progress. His fame as a preacher spread rapidly until he became a prominent figure in the ministry of Welsh Independents.

NATIONAL EISTEDDFOD TRIUMPHS
In 1906 and 1907 Mr Davies sprang into national fame as the winner of the chief essays (to which we shall later refer) in the National Eisteddfodau of Caernarvon and Swansea: but two or three months after the latter event (17 years ago next Sunday), when only 42 years old, he suffered a stroke of paralysis. After a partial recovery he managed to resume his ministerial duties and in 1908 was selected to read a paper at the meetings of the Welsh Congregational Union at Rhosllanerch-rogog on "True and False Socialism". His continued ill health however, although did not prevent him from writing the paper, made it impossible for him to read it personally and the task was under taken by another.
He made heroic struggles to recover, but realising the hopelessness of the fight he resigned from the pastorate in 1915: ever since he has lived in complete retirement, taking no part in public life.
On 8th December 1898, Mr Davies married Miss Annie Morgan, daughter of the late Mr and Mrs David Mainwaring and the adopted daughter of the late Mr and Mrs Morgan Morgan (Cwmtawe). On the occasion Mr and Mrs Davies were presented by the church at Wern with an illuminated address and other gifts. Much sympathy is felt for Mrs Davies and the two children Miss Rhiannon Davies and Master Iestyn Davies, in their sad bereavement.

AN APPRECIATION
In the Rev John Davies, Wern (he will always been known as such) Swansea Valley has lost one of its most prominent and interesting personalities, and Wales one of its most brilliant sons. He was cut down in the prime of life, for he was never the same man after that tragic stroke of paralysis when only 42 years of age. What he might have accomplished if he had been spared to live hailing strong, as many men of great attainments have, until 65 or 70! That he had gifts which might have made him a great and influential force in our national life no one, we think, can reasonably deny. He proved during his comparatively short active life that he might become one of our greatest preachers and one of our foremost literary men. As a preacher he was undoubtedly brilliant - brilliant save being perhaps his most salient characteristic. It was not the hard brilliancy that is born of intellectual pride but the softly glowing kind produced by the happy union of intellect and warm feelings. His sentences were always neat and polished the language choice and idiomatic and the thoughts expressed with forceful, original, sparkling and uttered with conviction. His sermons afforded proofs of careful preparation. Endowed with considerable oratorical powers he could by means of picturesque phrases and appropriate gestures convey to his hearers a vivid idea of a scene or situation and of the characters who took part in it.
The writer will always remember a sermon which the reverend gentleman preached on the Crucifixion. The main feature of the scene, the various characters concerned - the crucified, the relatives and friends of the sufferers, the Jewish officials, the rough Roman soldiers and the centurion - all were so graphically described and the profound significance attached was so expanded as to leave an impressionable impression. Such a sermon and most of his sermons were of the same character, whereas far apart as the polls from the airy, amiable nothings too often heard from the pulpit.
Possessed of an alerting keenly penetrating mind, the Rev John Davies was a great reader and a profound student. He had the instinct of the scholar and his equipment for the discharge of his sacred office as preacher was wonderfully complete. Although he set no arbitrary limits to his studies, his favourite subjects seem to be history, psychology and divinity.
We are sometimes inclined to think that if events had made it possible, he would have done even better as a professor in theological college then as preacher and pastor. His peculiar gifts as a thinker, his crystal clearness interpretation and exposition of the abstruse problems, his scholarly instincts and attainments suggest that Providence had meant it for a professorial chair.
It would be a mistake however to think that his attention was wholly taken up in the subjects we have noted. He had read widely in social and political subjects and wielding a ready pen he wrote on these important questions with fluency and power. The paper he prepared for reading at the Welsh Congregational Union on "Socialism, true and false", showed his keen insight into social problems and his courage in espousing the cause of Socialism when it was hardly as popular as it is today. We are proud to place on record that in the early days of the Llais he was a regular and welcome contributed to our columns. His friendship with the late Mr Ebenezer Rees the founder and first editor of this paper was based to some extent of the identity of their views and ideals in political problems.
His literally skill was put to the test and came out triumphantly at the National Eisteddfod of Caernarvon and Swansea in 1906 and 1907. At the former the prizes with the two chief prizes were won by him on the subjects: 1.The Industries of the Small Countries of Europe 2.The Religious Revivals of Wales.
At Swansea he won £10.10 Shillings for an Essay on The Duty of the State in Relation to the Commercial Life of the Nation; £15 for an essay on Cooperation and £20 and the essay on Sin in the Light of Evolution. In each he elicited from the adjudicator very high praise for his skill as a writer, his extensive acquaintance with all that he had written on these subjects and for his clear exposition and cogency of argument. And what a wide variety of subjects to deal with so exhaustively and so successfully in the course of two years! Earlier in life he had shared the prize with Mr M O Jones Treherbert on Welsh Musicians and had won the prize for the chief essay at Merion Eisteddfod under Watcyn Wyn, the subject being The Bible.
He was an ardent sincere Welsh Nationalist, a strong and consistent supporter of the movement to preserve the Welsh language and proud of all that was noble in the literary and history of Wales.
Keenly aware of his own early struggles and those of working-class children generally for education and in consonance with his advanced views on social questions, he never weary to advocate the cause of free education. He served faithfully for a number of years on the governing body of the Ystalyfera County School and students and young people anxious to sell culture received from him ready help and encouragement.
When Y Ddraig Goch Society was founded at Ystalyfera many years ago he was one of its chief supporters. He attended the meetings regularly and took a part in all the discussions. Y Ddraig Goch owed much of its success in those early days to his loyal and ever ready support.
Finally the Labour Party in this district should never forget how he supported the cause when to do so, meant a great deal more than it does today Labour men owe him a debt of gratitude which can never be repaid. He did not place his light under a bushel but zealously proclaimed his political faith in the press and on the platform without fear. Many may still remember his fiery eloquence on behalf of the Labour candidates in the elections from 1900 onwards.
From the Labour Voice for Saturday 14th October comes information on the funeral of John Davies, late Minister of Wern Chapel:-
A large and representative gathering assembled on Thursday for the funeral of the Rev John Davies (Wern). A short service was held at the house. The burial took place at Holy Trinity Church Godreírgraig. As the funeral passed Wern Chapel the Dead March was played by Mr W D Clee F R C O.
At the graveside the Rev Ben Davies Pantteg, is an old personal friend the ministerial colleague, gave an address in which he paid a high tribute to the deceased. The Rev M G Dawkins Morriston an old colleague friend also spoke in a similar vein.
The chief mourners present were: Master Iestyn Davies son; Rev Lewis Davies Gilwern brother; Mr William Davies Aberdare brother;

John Davies' widow, Anne, survived him for over two decades. The South Wales Voice (as it now was) of 11th September 1948 records her passing:-
OBITUARY MRS (Rev) JOHN DAVIES
Following an illness of a fortnight's duration, Mrs Annie Davies, Lower Wern Road, widow of Rev. John Davies, "Y Wern" Ystalyfera, died on Sunday morning last. Mrs Davies was 78. Her passing severs a link with "Old Ystalyfera" in a musical and religious sense. She was the adopted daughter of her uncle, the late Morgan Morgan - "Morgans Cwmtawe" as he was known over a vast area. Mrs Davies was reared in a musical atmosphere; choral and instrumental music formed the background of her upbringing.
She was linked by several ties to the church at "Y Wern" and was the church organist when the present organ was installed and occupied the position with distinction for some years. Later she became the wife of the minister, the Rev. John Davies, who, besides being an eloquent preacher, was a literary figure of national importance. Another link with "Y Wern" was the fact that the deceased lady's brother, the late J. D. Mainwaring, gave invaluable service to the church as precentor for many years. Mrs. Davies leaves a son and daughter to mourn.
The sympathy of the district goes out to Mr Iestyn Davies the son and Miss Rhiannon Davies.
The funeral, which was private, was on Tuesday at Holy Trinity Church.
Mourners were: Mr Iestyn Davies son; Mr Edwin Mainwaring brother; ...
At the house were: Miss R Davies daughter; Mrs Iestyn Davies daughter in law; Mrs Miriam Evans, Mrs J D Mainwaring, Mrs Edwin Mainwaring and Mrs William Mainwaring sisters in law;...

Rev. John Davies and his wife Anne, or Annie, had two children. There was a son named Iestyn, and a daughter named Rhiannon. Only a fortnight after the death of her mother, Rhiannon passed away, her death being recorded in the South Wales Voice of 25th September 1948:-
DEATH AND FUNERAL OF MISS RHIANNON DAVIES
Just a fortnight after the death of her mother Miss Rhiannon Davies 4 Lower Wern Road, passed away on Friday last. Two deaths in the one family occurring in close sequence make the circumstances doubly sad and great sympathy is extended to Mr and Mrs Iestyn Davies, Miss Davies' brother and sister in law in their double bereavement.
Miss Davies was, as is well known, the daughter of the late Rev. John Davies minister of "Y Wern" Church and Mrs Davies. By profession a school teacher she had to relinquish a position at Wern Schools in 1938 for health reasons. During the last few years, Miss Davies undoubtedly was a great sufferer and the end came as already stated.
The funeral which was private was on Tuesday at Holy Trinity Church.
Mourners were: Iestyn M Davies, brother; Edwin Mainwaring uncle; Idris Mainwaring, W D Mainwaring, E Wadley, T Wadley, S Rees, D Rees, C Lennan and T Jones cousins...
The History and Heritage of Ystalyfera is put online by Swansea Valley researcher Val Trevallion and Wolfian Design. All copyright remains with the original copyright holder, and all original research is copyright Val Trevallion, YEARGroup.
You can contact Ystalyfera History by emailing: contact@ystradgynlais-history.co.uk or Val Trevallion by emailing yeargroup@hotmail.co.uk.