Peniel Chapel, Godre'rgraig
Peniel was a small pentecostal chapel situated on the mountainside above Godre'rgraig. It was lost in the great landslip which swept through the village in the ?1960s.
During a wedding reported in the Llais at Bethel Apostolic Chapel, Ystalyfera in 1950, it is mentioned that the joint officiating minister at the service was "pastor Harry Price Peniel Godre'rgraig".
Our webpage includes announcements and advertisements for Peniel, Godre'rgraig, from the Llais newspaper. We hope thereby to give an indication of the life of the chapel, and of the community who worshipped there.
From the Llais
From the South Wales Voice May 1947:-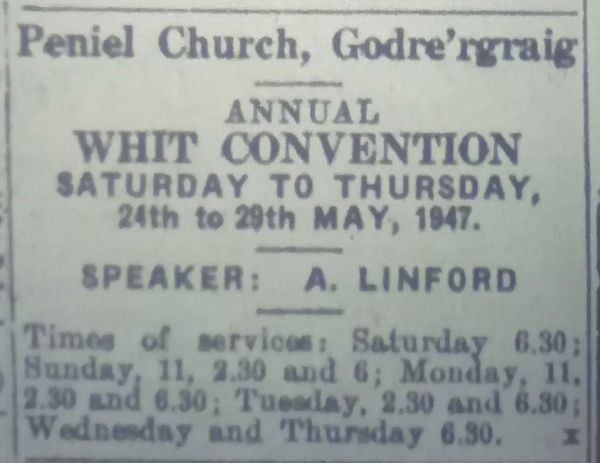 Peniel Church, Godre'rgraig

ANNUAL WHIT CONVENTION
SATURDAY TO THURSDAY
24th to 29th MAY, 1947

SPEAKER: A LINFORD

Times of services: Saturday 6:30;
Sunday 11, 2:30 and 6; Monday 11,
2:30 and 6:30; Tuesday 2:30 and 6:30
Wednesday and Thursday 6:30

From the South Wales Voice 25th September 1948:-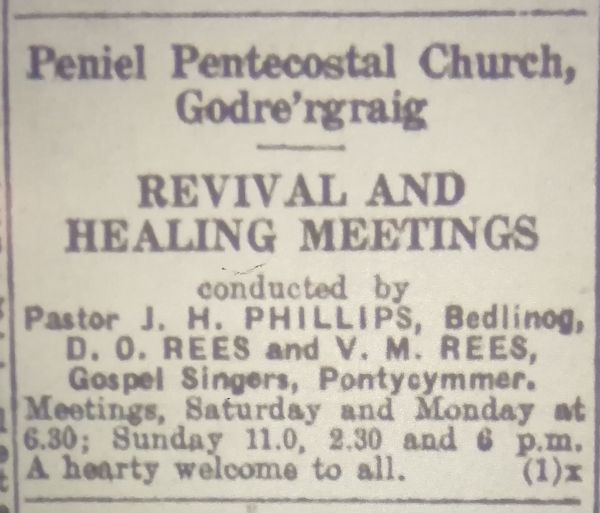 Peniel Pentecostal Church
Godre'rgraig

REVIVAL AND HEALING MEETINGS
conducted by
Pastor J H Phillips, Bedlinog
D.O. REES and V.M. REES
Gospel Singers, Pontycymmer
Meetings, Saturday and Monday at 6:30, Sunday 11, 2:30 and 6pm
A hearty welcome to all.

From the South Wales Voice 6th November 1948:-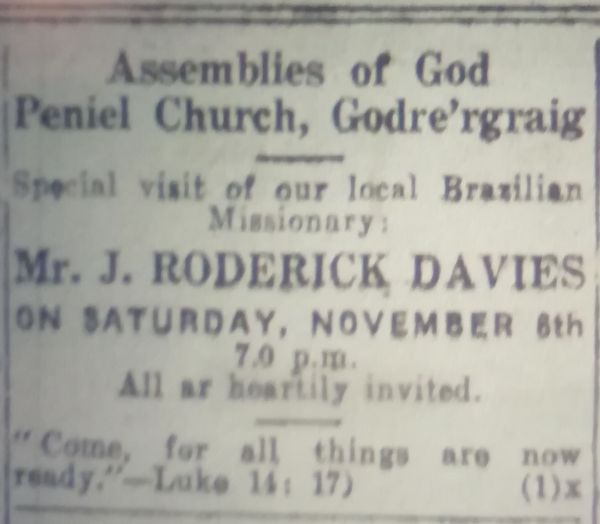 Assemblies of God
Peniel Church, Godre'rgraig

Special visit of our local Brazilian Missionary:
Mr J RODERICK DAVIES
ON SATURDAY NOVEMBER 6TH
7pm
All are heartily invited

"Come, for all things are now ready" - Luke 14: 17

J. Roderick Davies
As an interesting note, there was an article on J. Roderick Davies and his family in the South Wales Voice newspaper, Saturday May 6th 1939. While not directly relevant to Peniel, Godre'rgraig, it gives an interesting insight into who the speaker was at the meeting in November 1948, above:-
YSTALYFERA MISSIONER AND FAMILY ON THEIR WAY TO SOUTH AMERICA

Missioner, J Roderick Davies, who together with his wife and family was recently on a visit to their old homes in Ystalyfera and Treherbert, writes as follows while on board the RMI Highland Princess nearing Lisbon:-

Dear Mr Editor
On our departure for South America, we wish to send you a personal note of thanks for placing your valuable paper at our dispoal to make known our work in North America.
We wish the 'South Wales Voice' every success during the coming years - may it serve as a link to bring "good news from a far country" to many like ourselves in distant lands.
Yours very sincerely
J RODERICK DAVIES

[We are glad to have been of some assistance to Missioner Davies during his visit to the old country, and thank him for his good wishes. In company with our readers, we shall welcome accounts of his activities in distant places - Ed]