The Organists of Wern Chapel, Ystalyfera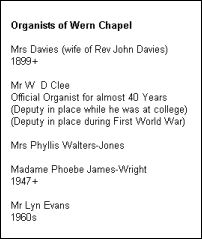 Between 1899 and 1947 there have been only three organists at Wern Chapel. The organ was installed in 1899 and the first organist was Mrs John Davies the wife of Rev John Davies. Mr W D Clee was only 14 years of age but he was already deputy organist. A second deputy was Mr Emrys Williams who resided at Millborough Road Ystalyfera.
Mr W D Clee succeeded Mrs Davies and served the church for nearly 40 years with only two temporary interruptions in this long period of service. First, while Mr Clee was at college and secondly, when he was on active service during World War I, his temporary absence being posted in the Llais:
LLAIS 21st SEPTEMBER 1918
Mr W D Clee A.R.C.O. Glen View, left on Tuesday to join the colours and was accorded a very hearty send-off by all his friends. At the Wern Chapel on Sunday evening he was presented with a beautiful Bible in recognition of his services as organist. Messrs T Samuel, J D Mainwaring, T Hutchings, and T. Rees spoke, and Mr Clee feelingly responded. It was mentioned that besides being an excellent organist, Mr Clee was also well versed in his Bible. Mr W T Davies (Eryr yr Allt) sang a solo during the evening. The presentation was made by Mr D E Parry.
On Monday evening a number of friends gathered together for the purpose of showing their regard for Mr Clee, on the occasion of his departure. Mr J T Owen presided. Mr Clee was presented with a handsome silver wrist-watch and Mr George Ernest Davies's party, Mr T Evans Pontardawe, Mr W T Davies, and Mr Emrys Jones contributed items to the programme.
---
Whilst he was away, he was deputised by Mr Glyn Williams the son of Mrs Williams and the late Mr John Williams (painter) and the grandson of the late Mr Llewelyn Williams, who was the precentor of the church when the organ was installed in 1899. He eventually left Y Wern to take up the organ duties at Pantteg and his place was taken by Mrs Phyllis Walters-Jones A.L.C.M. After having rendered loyal and efficient service during her tenure of the office Mrs Walter-Jones gave in her resignation much to the regret of the church.
On Sunday 30th November 1947, a new appointment was made and the mantle fell on Madame Phoebe James-Wight L.R.A.M., A.R.C.M. She was a very accomplished and popular musician in the Upper Swansea Valley, having previously held organ appointments. After Mrs James the organist in the 60's was Mr Lyn Evans.
---
The History and Heritage of Ystalyfera is put online by Swansea Valley researcher Val Trevallion and Wolfian Design. All copyright remains with the original copyright holder, and all original research is copyright Val Trevallion, YEARGroup.
You can contact Ystalyfera History by emailing: contact@ystradgynlais-history.co.uk or Val Trevallion by emailing yeargroup@hotmail.co.uk.