The Early Years of Wern Chapel, Ystalyfera
Back in the 1860's it was felt the need for a chapel to be built in the centre of the district and services for this purpose were held at the home of Thomas Walton, grocer, Wern. Two deacons from Pantteg, Mr John Dafydd Evans and Mr James Clee were appointed to assist the Wern people to achieve their object.
It is at this point that I can refer to YEARGroup's Cemetery Research and the file of an elderly lady Mrs Elizabeth Rees, who passed away in 1915 at the age of 82. Being buried in Holy Trinity I have recorded her obituary and funeral and also an article in which another Ystalyfera resident submitted to the newspaper, which gives an account of a conversation he had with Mrs Rees on one of his visits to her home.
"I found the old lady comfortably housed in her spotlessly clean little cottage near the Vine, on a Friday evening in May, of 1911, and her memory and tongue were as pliable as ever. After completing the business which prompted my visit, I quietly led the old lady by a judicious question to talk of her early life and her experiences. She told me that she was born at Ynysdafydd Farm, near Cwmavon, and that the holding had been in her family's possession for over 300 years. After her father's death, she came to Ystalyfera as a young bride of 18 years and for a time she lived on Church Road, in one of her brother's -Thomas Davies- houses. On Sundays she attended Pantteg Chapel and sat in her brother's pew. This was before the erection of Wern Chapel, with which she was destined to be so long and closely associated in later years. Old Griffiths, Alltwen, was minister of Pantteg in those days, and as it was the pre-railway times in the Swansea Valley, the old man used to ride to his duties on a white mare, and had to pay a toll of a groat in passing through the turnpike gate at Pentalwn.
............................. Having turned the old lady to reminiscences of Wern Chapel, she said that the contractor was Evan Jones -"Ifan Jones y Saer" as he was popularly known- and the contract price was £1,200. The ground was let by John Davies -Shon o'r Bont- and the ground rent was fixed at a guinea per annum.
Lewis Jones, the mason on the contract, became one of the first deacons, and William Rees, Mrs. Rees's husband, was the first secretary of the church and with much pride the old lady said "I made the first loaf of bread for the communion. She said that her brother William, who afterwards became superintendent of the tin house, had a small tin made at the works just large enough to make a small loaf. She concluded by stating that for many years the supply preachers were entertained at her house in Prospect Place, during their visits to the chapel."
LLAIS 1st MAY 1915
A largely attended memorial service took place on Sunday evening at the Wern Chapel for the late Mrs Elizabeth Rees (Vine), one of the founders, whose death we recently reported. The congregation included a large number of the deceased lady's family and the pastor (Rev John Davies) made very suitable reference to the work of Mrs Rees for the chapel. During the evening, the organist (Mr W D Clee A.R.C.O.) played the Dead March in 'Saul'.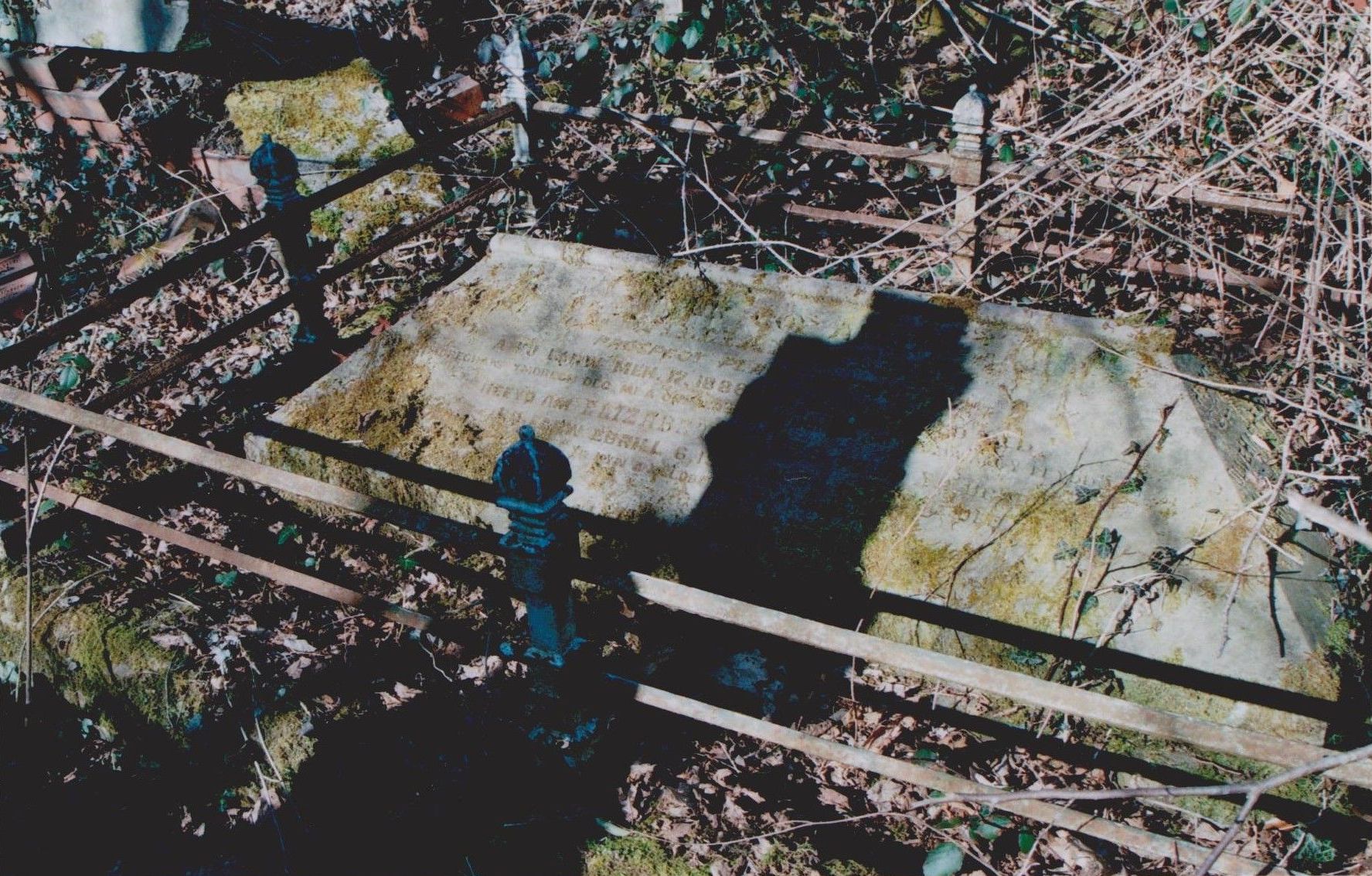 The photograph I took in 2010 shows the family grave of Elizabeth, and her husband William who predeceased her by 27 years.
LLAIS, 7th FEBRUARY 1925
An Old Native Passes Away at 86

The death took place on Thursday last at the house of her grandson and granddaughter, Mr and Mrs David Llewelyn-Davies, 9 Darren Rd, of Mrs Anne Jones, widow of the late Llew Jones, familiarly known as "Llewelyn Y Cwehydd" who predeceased her by 21 years. The deceased was 86 years old, and the last 4 months of her life, owing to the infirmities of old age were spent in bed. Mrs Jones was the daughter of Mr Benjamin Price, at one time owner of Old Gurnos Foundry and was a relative of the renowned Doctor Price of Glantwrch.

Along with her husband, Mr Llewelyn Jones, she was one of the founders of Wern Chapel. She leaves 2 sons, 2 daughters, and several grandchildren. The funeral took place on Monday at Holy Trinity Churchyard.

The chief mourners present were Messrs Benjamin Jones and Samuel Jones, sons, Isaac Davies and David Williams, sons-in-law; David Llewelyn-Davies and James Williams; Johnny Davies; Llewelyn Williams; John Llewely-Jones; Ieuan Jones; Iowerth Jones; Islwyn Lewis; George Harvey and Tom Jones, grandsons; Messrs Isaac Parry, Swansea; William Hopkin, Neath; Ivor Thomas, Ystalyfera, nephews.
Val Trevallion
---
The History and Heritage of Ystalyfera is put online by Swansea Valley researcher Val Trevallion and Wolfian Design. All copyright remains with the original copyright holder, and all original research is copyright Val Trevallion, YEARGroup.
You can contact Ystalyfera History by emailing: contact@ystradgynlais-history.co.uk or Val Trevallion by emailing yeargroup@hotmail.co.uk.