The Ministers of Wern Chapel, Ystalyfera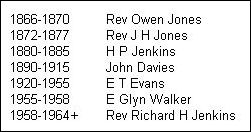 Although the first service was held in the vestry on the Friday evening of 12th September 1864 the Chapel was, according to records, officially opened on Sunday 14th September 1864. Seventy five members formed the church in 1864 and it was built at a cost of £1,173. On 5th June 1866, Mr Owen Jones was ordained as the first minister when the membership had increased to 104. In July 1870, the Rev Owen Jones had left and two years later the Rev J H Jones took up the ministry continuing until 1877, when the membership had again increased to 148. Mr H P Jenkins was ordained on 14th April 1880 and he ministered there for five years.
Mr John Davies of Memorial College Brecon was ordained as minister in 1890 but on account of his continued ill health, he decided to resign from the pastorate in 1915. He had been suffering for the last eight years and after a ministry of a period of 26 years the Church had arranged to present him with a cheque of £52 which was handed over to him in December of 1915. Although not able to perform his ministerial duties he decided to open a business at Victoria House on Wern Road as a bookseller, stationer and dealer in fancy goods.
Read More about John Davies, Minister of Wern Chapel
In 1920 Mr E T Evans BA of Brecon College accepted a call and he began his duties in August of 1920. His was the longest ministry in the history of the Wern Chapel and in 1955 the church arranged a testimonial to him and he received a cheque for his valuable services.
Following that, Mr E Glyn Walker BA came to the Wern but after three years he resigned the position and it was during the ministry of the Rev Richard H Jenkins that the centenary services were celebrated.
---
The History and Heritage of Ystalyfera is put online by Swansea Valley researcher Val Trevallion and Wolfian Design. All copyright remains with the original copyright holder, and all original research is copyright Val Trevallion, YEARGroup.
You can contact Ystalyfera History by emailing: contact@ystradgynlais-history.co.uk or Val Trevallion by emailing yeargroup@hotmail.co.uk.