Soar Chapel - The first lady deacon
In 1926, Mrs Frederick Rees was elected the first lady deacon of Soar Chapel, and indeed in the whole of Ystalyfera. It was thought entirely possible she might also be the first lady deacon in the whole Swansea Valley.
From the Labour Voice newspaper, Saturday 31st October 1926:-
FIRST LADY DEACONAT YSTALYFERA

Soar Church has won the distinction of being the first Church at Ystalyfera (and as far as we know in Swansea Valley) to elect a lady deacon. The election took place on Sunday last and the lady who has received this signal distinction is Mrs Frederick Rees, Bristol House.

Other Deacons elected were:
Messrs Thomas D Williams Church Road
John R Williams, builder
John David Williams Commercial Street
Phillip Powell Penygurnos

Catherine - Mrs Frederick Rees
Mrs Frederick Rees was Catherine Rees, nee Smith. Frederick was a boot and shoe dealer. He was the son of Thomas and Jane Rees, and was born in Glamorgan in 1865. Catherine was the daughter of William Smith, a shoe-maker, and Margaret, and was born in Ystalyfera in 1867. Frederick and Catherine Rees married in 1884 in Pontardawe. They lived at Troedyrallt, School Road Ystalyfera. They had previously lived (when?) at Bristol House Wern Road Ystalyfera Frederick died on 17th October 1939 and was buried on 21st October 1939. Catherine died 3rd October 1940 and was buried 7th October 1940. They had an adopted daughter, ???? who married William John Hopkins (or Hopkin).

Fredrick had five brothers and one sister, among whom was Evan Rees, born in Ystalyfera in 1858, and who was headteacher of Cynlais and other schools, before his death in 1918.

Catherine had six brothers and two sisters, and at least three of her brothers followed the family trade in shoe-making

From the Labour Voice 1st July 1916 newspaper we hear of the war service of Mrs Frederick Rees, i.e. Catherine Rees:-
The name of Mrs Frederick Rees, of Bristol House, has been submitted to the Glamorgan County Council as the local representative on the War Pensions' Committee. Mrs Rees previously did good work on the Soldiers' and Sailors' Committee, and her appointment has caused local satisfaction.
From the Labour Voice newspaper 2nd January 1926 came news of the retirement from his business of Frederick Rees:-
After spending 43 years in business as a boot and shoe dealer at Bristol Housem Wern Roadm Ystalyfera, Mr Frederick Rees is now retired and is taken up his residence at the house recently erected for him near Wern School. We understand the business will in future be carried on by Mr Rees' son-in-law Mr William John Hopkin.

From the South Wales Voice newspaper 21st October 1939 came news of Frederick Rees' death:-
MR FREDERICK REES YSTALYFERA
DEATH OF PROMINENT BAPTIST

We deeply regret to announce the passing of Mr Frederick Rees Troedyrallt School Road at the age of 75. Mr Rees had enjoyed fairly good health up to a fortnight ago when a sudden illness necessitated his removal to Swansea Hospital where he passed away on Tuesday morning. Mr Rees had formally carried on the business of boot and shoe maker at Bristol House Wern Road but retired some years ago. Since then he had devoted most of his time with jealous attention to the Baptist Cause and in particular to that of Soar Chapel. He was a man of deeply religious convictions with a quiet and gentle nature and was regarded with affection by all of his immediate associates and with deep respect by all with whom he came into contact.
The measure of his religious activities may be gauged by the fact that he was senior Deacon and treasurer of Soar Chapel -Deacon for 40 years and treasurer for 30 years; treasurer of the Free Church Council; treasurer of the local branch of the British and Foreign Bible Society and treasurer of the Ystalyfera and District Baptist Association since its inception 30 years ago.
He leaves the sorrowing widow and daughter to mourn their loss.
The funeral will take place on Saturday at 4pm, the interment to be at Soar burial ground.

From the South Wales Voice newspaper 28th October 1939 reports on the funeral and burial of Frederick Rees:-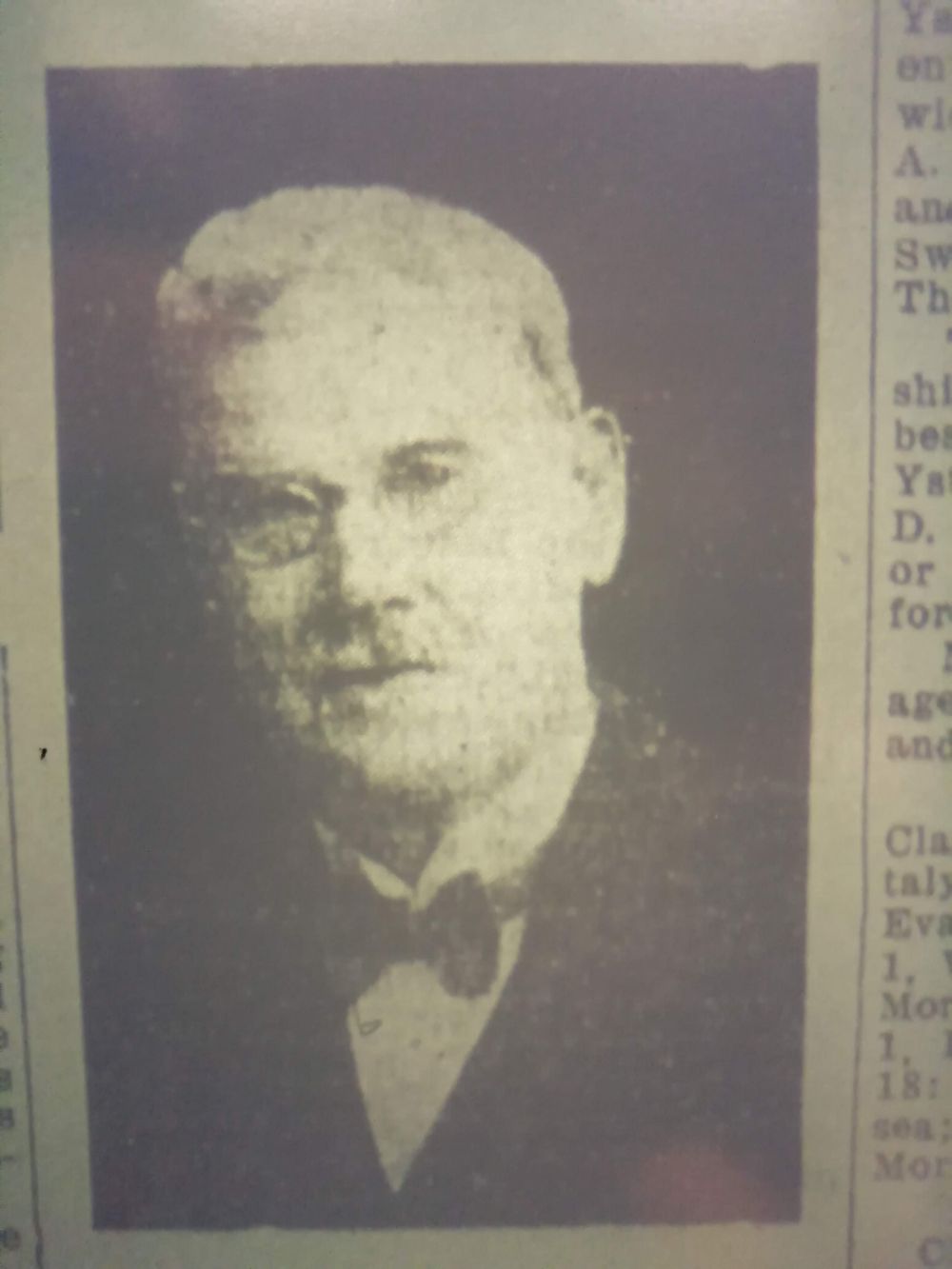 YSTALYFERA DEACONS FUNERAL
BURIAL OF MR FREDERICK REES

There was a large and representative gathering at the funeral of Mr Frederick Rees Troedyrallt Ystalyfera who was laid to rest in Soar burial ground.
Mourners were; Messrs W J Hopkin son-in-law; John Rees brother; John Maddock brother-in-law; Hector Smith brother-in-law; Rufus Rees, Oswald Rees Maddock, Douglas Smith, Stanley Smith, David Smith, Oswald Davies Dan Evans nephews; James Davies Rhys Rees cousins.
At the house: Mrs C Rees widow; Mrs W J Hopkin adopted daughter; Miss Kathleen Hopkins granddaughter; Mrs Knott niece; Mrs John Rees sister-in-law; Mrs Rufus Rees, Misses Jenny and Glenn Maddock, Mrs Annie Connick nieces: Mrs Rhys Rees, Mrs D Rees cousins; Mrs Hector Smith sister-in-law.

From the South Wales Voice newspaper 12th October 1940 came the news of Catherine's death.
YSTALYFERA CHURCH WORKER

We regret to report the death of a highly respected resident of Ystalyfera in the person of Mrs Catherine Rees, widow of Mr Frederick Rees Troedyrallt School Road, who passed away last Thursday at the age of 73 years. A native of Ystalyfera Mrs Rees lived in the village all her life. For 13 years she was a deaconess at Soar Chapel in the affairs of which she took a lifelong interest. She was a past president of the West Glamorgan Baptist Women's Zenana Mission for Wales. In January 1935 Mr and Mrs Rees celebrated their golden wedding. Mr Rees passed away about a year ago. During the last war, Mrs Rees was an active worker for the Soldiers and Sailors Families Association for which she received a letter of thanks from the President Queen Alexandra.
The funeral took place on Monday, burial being at Soar Chapel Cemetery.
Mourners: W J Hopkins son in law: Hector Smith Neath brother: J T Rees and John Maddocks Ystalyfera cousins; John Oswald, Rees Maddocks and Rufus Rees Ystalyfera nephews; Rhys Rees and James J Davies cousins.
At the house were: Mrs W J Hopkins adopted daughter; Miss Kathleen Hopkins granddaughter; Mrs J T Knott Hereford; Mrs Rufus Rees, Misses Gwen and Jenny Maddock, Mrs M Davies, Mrs Violet Davies, Mrs Oliver Jones nieces; Mrs Hector Smith and Mrs J T Rees sisters in law.

Read about the Golden Wedding Anniversary of Frederick and Catherine Rees.