Rev Evan David Lewis,
of Caersalem Chapel, Ystalyfera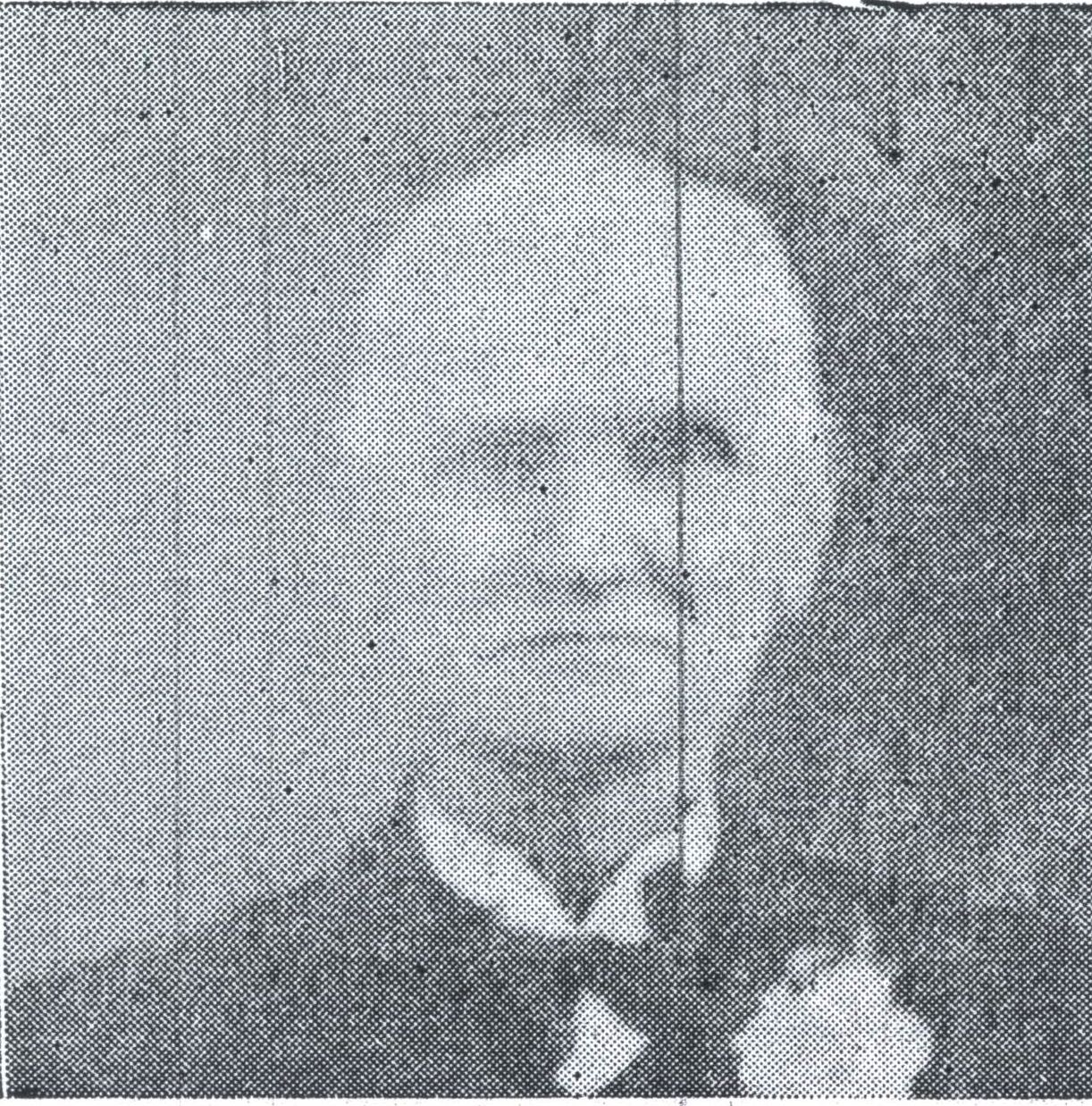 A very successful minister, the Rev E D Lewis (born 1865) came to Caersalem in 1905. He was elected president of Y Gymanfa Morgannwg in 1934 and as secretary of the District Meeting of Ystalyfera and surrounding area for 30 years. In 1941, he celebrated his 50th year in the ministry.
E.D. Lewis retired in 1943, two years after celebrating 50 years in the ministry. He died in 1947 aged 81 years and was buried in his native village Glanamman.
He was married to Mary Ann Lewis (born 1870), and they had 3 children living with them in Ystalyfera in 1911 - Bessie (born 1902), David Grenig (born 1903), and Ann (born 1908).
From the South Wales Voice 29th AUGUST 1931 :-
ESTEEMED YSTALYFERA LADY
DEATH OF MRS (REV) E D LEWIS
IMPRESSIVE FUNERAL

We regret to report the death of Mrs M A Lewis, wife of Rev E D Lewis Caersalem Ystalyfera, who passed away in the early hours of Friday morning after a long and painful illness. The deceased lady had borne her illness with Christian fortitude and her death came as a great shock to her family and acquaintances.

Mrs Lewis was a native of Efail Isaf near Pontypridd and had resided in Ystalyfera for about 25 years. She took a keen interest in the work of her husband and was an active worker for the cause at Caersalem. Of a retiring disposition, Mrs Lewis, carried on any task she undertook with a quiet efficiency that was most effective. She was a faithful worker in the Sunday school and had charge of a class for many years. It was largely due to her efforts that a branch of the Zennana Mission was formed at Ystalyfera and district and she was a past president of the branch.

Her death will be an almost a repairable loss to the Caersalem and the district and the heartfelt sympathy of the place is extended to the family in their bereavement.

There are left to mourn a husband, son Mr D Grenig Lewis MA Durham and two daughters, Misses Bessie Lewis Wern Infant's School Ystalyfera and Nancy Lewis Cymmer Girls School.

THE FUNERAL: The funeral took place on Tuesday and was one of the largest seen in the district for some time. All shades of public opinion were represented and this exemplified the esteem in which Mrs Lewis was held.
v The burial was at Bethesda New Cemetery Glanamman. The body was conveyed by motor hearse.

The mourners were: Rev E D Lewis husband; Miss Betty Lewis and Miss Nancy Lewis daughters; Mr D Grenig Lewis MA son; Councillor John Phillips Glanamman; Mr and Mrs Tom Phillips Llanelly, Mr G Tracey Phillips Glanamman; Messrs J and B Rees, Mrs A Bevan and Mrs A Morgan Llantrisant; Mr David Rees Coroner Efail Isaf; Mr and Mrs Hopkins and son Llansamlet relatives.
From the South Wales Voice SATURDAY 12th SEPTEMBER 1936 :-
FORMER YSTALYFERA RESIDENT
DEATH OF MR D GRENIG LEWIS MA

We regret to announce the death of Mr D Grenig Lewis MA, only son of the Rev E D Lewis and the late Mrs Lewis, Caersalem Ystalyfera, which took place on Wednesday morning at a Colwyn Bay Nursing Home. Mr Lewis was taken ill while on holiday and removed to a nursing home where he passed away despite the best of care and medical skill.

He was 33 years of age and had been married for nearly 5 years. Mr Lewis was history and geography master at the Consett Secondary School, County Durham.

Heartfelt sympathy is extended to the widow, father and family in their sad bereavement.

The funeral takes place tomorrow, Saturday, at Colwyn Bay.
From the South Wales Voice SATURDAY 19th SEPTEMBER 1936 :-
LOCAL FAMILY BEREAVED

At Caersalem Chapel on Sunday evening sympathetic references were made to the loss sustained by the Pastor, the Rev E D Lewis and family by the death of Mr D Grenig Lewis MA of Consett at Colwyn Bay.

Mr Samuel Morgan Woodman's Terrace moved a vote of sympathy with the family which was passed, all present standing in silence.
From the South Wales Voice SATURDAY 22nd MARCH 1947 :-
PASSING OF REV E D LEWIS

With profound regret we report the passing of the Rev Evan David Lewis, retired pastor of Caersalem Baptist Church Ystalyfera, at his home 18 Alltygrug Road Ystalyfera, at the age of 82. He died during his sleep in the early hours of Monday morning. He had been taken ill a week previously but had been able to get up from bed during the week. The late Mr Lewis was a native of Glanamman and had worked in the mines when a young man. He preached his first sermon from the pulpit at Bethesda Welsh Baptist Church Glanamman where he was a member. He took up studies at Gwynfryn Preparatory School Ammanford and later at the North Wales Baptist College Llangollen. He was ordained that Bethlehem Welsh Baptist Chapel Llancarfan on 18th January 1890. He took up the pastorate of Horeb English Baptist Chapel Treorchy in 1895 and after remaining there two years, accepted a call to the Baptist cause at Croes y parc Peterson Super Ely near Cardiff. Eight years later he commenced his ministry at Caersalem Ystalyfera. In June 1941 he completed 50 years in the Baptist Ministry and two years later he retired due to failing health.

The oldest minister in the Welsh Wales Baptist Association, Mr Lewis was most beloved by his fellow ministers. He had taken a prominent part in activities of the Association during his life and was president in 1934. Many readers will remember his eloquent sermon at the Association's annual meeting in Beulah Cwmtwrch, in that year on "Dydd y Pentecost - Dawn yr ys bryd Glan".

Mr Lewis served on all committees of the Association most particularly the ministerial committee. He was also secretary of the quarterly meetings of the Ystalyfera District Baptist for 25 years. He was recognised as a sound, able and one of the most hard-working ministers in the Baptist cause and possessed a high literary talent. He was a very frequent contributor to the "Seren Cymru" the weekly paper of the Welsh Baptist denomination. His contributions comprise mainly of sermon, which earned him wide respect and admiration. Wise in counsel, Mr Lewis was a most amiable gentleman, possessing deep conviction and an alert up-to-date mind. His passing will be widely mourned.

Predeceased by his wife, Mrs MA Lewis, a native of Efail-isaf Pontypridd in 1931, he is survived by two daughters: Mrs Rufus Gabe 18 Alltygrug Road Ystalyfera and Mrs Whitney Davies Pentyrch Cardiff, and four grandchildren; Dorothy Gabe, David, Hugh and Delyth Davies.

The funeral took place on Thursday, interment being at Bethesda Chapel Burial Ground Glanamman.
From the South Wales Voice SATURDAY 29th MARCH 1947 :-
FUNERAL OF REV E D LEWIS YSTALYFERA

A representative gathering of fellow ministers attended the funeral on Thursday last of the Rev Evan David Lewis, 18 Alltygrug Road Ystalyfera, who was pastor of Caersalem Baptist Chapel, from 1905 until his retirement in 1943. The deceased's only son Mr David Grenig Lewis MA died in 1936 at the age of 33 and was at the time on the staff of Consett County School, County Durham.

At Bethesda Chapel where Mr Lewis was a member in his youth, the reading was taken by the Rev W P Thomas Cwmtwrch and prayers offered by the Rev J Rowland Jones Pontardawe and the Rev Isaac Thomas Pastor of Bethesda gave out the hymn.

High tribute was paid to the deceased as a preacher, writer and one who was greatly beloved, by the Rev R S Rogers Swansea, President of the Welsh Baptist Union; Mr Gwilym Phillips Cwmtwrch Chairman of the Cwrdd Dosbarth; the Rev D R Beynon Ystalyfera on behalf of Eglwys i Elfengylaidd Ystalyfera and the Rev D G Jones Pontardawe and E Aman Jones Ystalyfera on behalf of Cyfeillion Boreu Oes. The Rev D Hubert Davies Ainon Ystradgynlais took part at the graveside.

Family mourners were: Messrs Rufus Gabe, W Whitney Davies sons-in-law; Alderman John Phillips JP Glanamman cousin; Messrs G Tracy Phillips solicitor Glanamman, Jonathan Jones Glanamman nephews.

At the house: Mrs Rufus Gabe, Mrs W Whitney Davies daughters; Dorothy Gabe granddaughter; David Whitney and Hugh Davies grandsons.

A pall covered the Coffin. There was a request for no flowers. One floral tribute was received from Alice at Conway Bay.